Two years ago, I ran a series of guest posts from people involved in Irish music featuring their top 5 Irish acts at that moment. This time around, I thought I'd shift the focus to international and ask a similar question – "Who are your top 5 new artists of 2011?". Musicians, bloggers, record shop owners, journalists, bookers and radio presenters will all be answering that question.
Gib Cassidy is the proprietor behind Elastic Witch, Dublin's newest independent record shop and hang out space based in Twisted Pepper on Abbey Street. He's also the drummer in Logikparty, is one of the friendliest people in Dublin and well-reknowned for his great hair. You can browse Gib's catalogue of vinyl, CDs and cassette here if you're not based in Dublin. Do try and pop in though. Gib will order in vinyl for you no problem. Here are his top 5 new artists of 2011:

Autumn of this year saw the release of the debut album, on the legendary Warp Records, from Glaswegian Russell Whyte aka Rustie. He's been around for a couple of years at this stage but I think it's probably fair to say this year has been his 'breakthrough' year.
Glass Swords is a real gem. In some parts it sounds as if a commercially successful '90s dance producer took a time machine into the future (5 or 6 years ago) and got a brief taste of dubstep. In others, there are the euphoric, almost 'hair metal' synth riffs, on tunes like 'Cry Flames' and 'Ultra Thizz' that would put Eddie Van Halen to shame.
Familiarity-is-the-mother-of-originality on this record. Old-school rave (complete with high pitched vocal samples), nu-school R 'n' B, lots of bass and lots of fun make this one of the best things for me this year. If the likes of Squarepusher and Plaid flew the flag for the 20th century 'futurist' music on Warp Records then Rustie surely takes the baton for the 21st century. Worth bearing in mind that the guy is in his early 20s too.
The future is bright…
---

Peaking Lights are husband and wife duo Aaron Coyes and Indra Dunis. They make spacey, bass heavy, lo-fi dub. Favourites on the blogosphere for a while now, this year's 963 album saw them reach a wider audience.
Originally released on the ultra cool US label Not Not Fun, the album was picked up for full European release on Domino Records subsidiary Weird World later this year.
In places the vocals are like mantras and musically it's safe to assume that they have a few '60s psych records in their collection alongside their King Tubby's and Lee 'Scratch' Perry LPs.
Great album! Look forward to see where it goes from here.

---
Severant (Planet Mu Records) is the stunning debut solo long player from former Vex'd member Jamie Teasdale aka Kuedo. Think the Vangelis Blade Runner soundtrack meets Tangerine Dream and you'll be in somewhere in the right ballpark.
Futuristic analogue synths, nocturnal city cinema soundscapes and some Burial style sonic subtleties over a backbone of some the most dextrous drum programming I've heard for some time, makes Severant one of my top albums from 2011 including both new and already established acts.
Absolute killer stuff.
---

The curveball in my top 5! Denmark's Iceage are sonically just about as far away as you could get from a few of the others on my list. What we're dealing with here are four young men with guitars and drums who make 21st century, gothic-tinged, atmospheric, post-punk ROCK!
It's difficult for me to pinpoint what exactly sets them aside from some new bands doing the rounds today. The words are all (as far as I can decipher) in English but delivered with a strong European accent. Some of the music could sit (un)comfortably on an early Black Flag record. Also no denying the 'no-wave' thing going on here – discordance itself becoming a thing of controlled greatness.
Above all, this is a massively refreshing debut album from an amazingly promising young band. In a musical world of 'gorgeous' and 'beautiful', their album New Brigade is a (gasping for) breath of fresh air.
Awesome.

---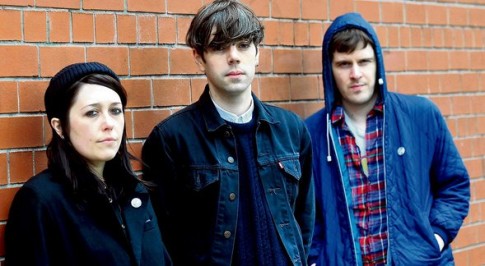 Girls Names are from Belfast. After a few releases, EPs etc, May 2011 saw the landing of their barely-half-hour-long debut album Dead To Me (Slumberland/Tough Love).
The influences are all worn proudly on their sleeves here – Beat Happening, Postcard Records, early Jesus and Mary Chain, surf etc. Girls Names themselves are the real deal though. Three minute tunes, jangley guitars and awkward back-beats. Catchy as hell! Simple but incredibly effective.
No wonder that these three Belfasters have been so well received by many major online music sites (including a very favourable review in Pitchfork) and indeed Dead To Me was the Rough Trade album of the week upon its release.
Why? Because they are fantastic….
Girls Names – I Could Die by Slumberland Records