Two years ago, I ran a series of guest posts from people involved in Irish music featuring their top 5 Irish acts at that moment. This time around, I thought I'd shift the focus to international and ask a similar question – "Who are your top 5 new artists of 2011?". Musicians, bloggers, record shop owners, journalists, bookers and radio presenters will all be answering that question.
Gugai is the main man and promoter in Roisin Dubh in Galway and one of the best sources for new music in Ireland. He's on the ball so to speak. Upcoming gigs in the Roisin include Strange Brew Christmas Party with Le Galaxie, Adultrock, Elaine Mai & It Was All A Little Bit Black & White and New Year's Eve with ASIWYFA, Toby Kaar, Daithi and Sleep Thieves. In January, there'll be a week of gigs Once Upon A Time In The West #2 – with Grandmaster Flash, Clap Your Hands Say Yeah!, Abandoman and more. Here are his top 5 new acts of 2011:
They used to be called Films, but I still think they fit into the 2011 category? That ∆ is pretty irritating, but I've long forgiven them for that. I've become reasonably obsessed with them. Really catchy, understated, and for an act with only four tracks out there, they display a wonderful range, from the dark beaty chorus of 'Breezeblocks' to the quiet ballady 'Matilda'. Looking forward to hearing more from them. An awful pain in the arse to find on the internet because of the aforementioned ∆ bullshit, but well worth it.
---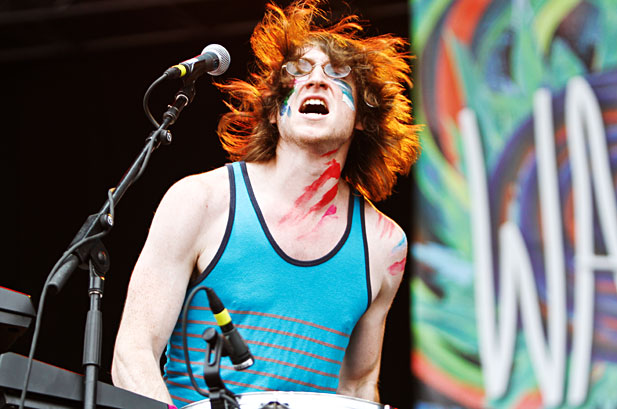 I'll squeeze these guys into 2011 as well, mainly because it came out very late last year and the record really appeals to my delicate pop sensibilities. 'Anna Sun' is a cracker of a song.
---

I don't think I could love Tieranniesaur any more than I do – another glorious record from the Popical Island people and one of the only albums this year that both of my kids and myself will agree to listen to in the car. 'Sketch!' is a car journey sing along monster.
---

I don't want people to think that I would include Elaine in this list because I work with her, rather that I work with her because I would include her in this list, if you follow me. She's an exceptionally talented artist, and her material has come on enormously in the last few months. Her live show is superb also. Really, really beautiful songs, and an incredible voice combined with an innovative performance make her one of the stand out artists of the year for me. Her EP's out in January I believe……………..ahem.
---
21st Century Disco Pop or something like it. Immaculate.