Father John Misty looks set to release a new album called Pure Comedy on April 7th, in Ireland, the UK & Europe through Bella Union and in the rest of the world on Sub Pop.
As Stereogum pointed out, a Matthew Daniel Siskin-video featuring footage of Trump, memes, well-known recent video footage and original campaign artwork matches the song's tone addressing the USA's current social and political climate.
"How's this for irony? Their idea of being free, is a prison of beliefs, that they never have to leave."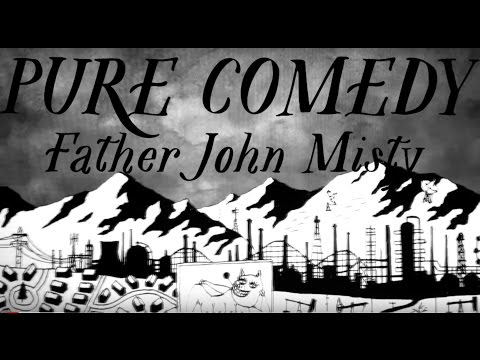 Album artwork is by Ed Steed (The New Yorker). There is also a 30-minute film to accompany the album's release also called Pure Comedy.

Pure Comedy was co-produced by Josh Tillman, along with Jonathan Wilson, and features string, horn and choral arrangements from classical iconoclast Gavin Bryars, with additional contributions from Nico Muhly and Thomas Bartlett.
Pre-orders are up in the new merch store.
Pure Comedy will be a followup to 2015's I Love You, Honeybear.
Pure Comedy Tracklist:
1. Pure Comedy
2. Total Entertainment Forever
3. Things It Would Have Been Helpful to Know Before the Revolution
4. Ballad of the Dying Man
5. Birdie
6. Leaving LA
7. A Bigger Paper Bag
8. When the God of Love Returns There'll Be Hell to Pay
9. Smoochie
10. Two Wildly Different Perspectives
11. The Memo
12. So I'm Growing Old on Magic Mountain
13. In Twenty Years or So