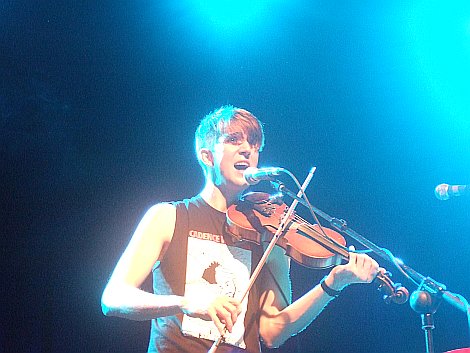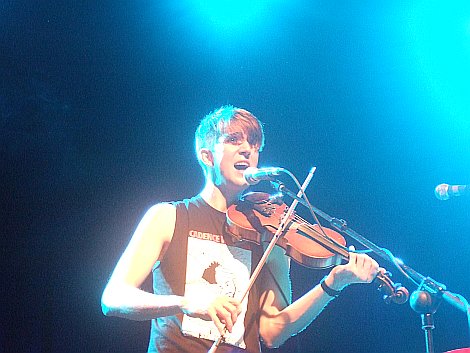 Owen Pallett was received quite reverentially from the seated crowd last night. I enjoyed the show immensely despite it not living up to the Electric Picnic set but that's inevitable as it's a hard task to transplant an audience in a festival mindset to a Dublin venue on a sit down post-work Tuesday night.
Pallet played some material from the forthcoming Heartland, one song which sounded quite menacing and dare I say, experimental. "Hey Dad" segued into "The CN Tower belongs to the Dead" wonderfully and I was delighted to hear him do a custom rendition of "The Penalty" from Beirut's The Flying Club Cup on which he guests. The cover versions at the end, Mariah Carey's "Fantasy" and Bloc Party's "This Modern Love", are essential to his sets at this stage as they remind you of how versatile he is with a violin. The former song started with a Miracle Fortress song (who supported last night – album Five Roses is fantastic – get it!).
Pallett was also trying out some quadraphonic sound setup but my ears couldn't grasp it from where I was (Huge thanks to Loreana, Darragh and Ian for the seats!). I do think a combination of a seated show and a massive stage affected his performance somewhat. He also had trouble with the monitors.
I was also fascinated with his Cadence Weapon t-shirt. It had a drawing of Ghostface Killah being attacked by a shark with the tagline "Swim, Starks, Sharks!". Amazing.
In the pub after the show, we wondered what stringent classical music lecturers would think of his modern approach to a classical instrument and his popular appropriation of modern pop songs? No doubt, he needs little affirmation from such a sect was the outcome of our ponderings.
Everyone is probably aware by now but just in case – Owen Pallett will be joining Jens Lekman tonight and is the special guest at Girl Talk on Thursday.