Florence and the Machine's London album launch
On the day that Florence and the Machine's debut album Lungs is officially launched, it is number one in the midweek album chart. Michael Jackson's memorial concert might stilll have something to do with the eventual outcome but right now in The Rivoli Ballroom in Camberwell, South London there's a triumphant feel in the air. The Rivoli is a classic space – a listed Edwardian South London ballroom decorated with chandeliers, a ladies boudoir, red velvet and a long wooden dancefloor. the White Stripes played here in 2007 and Tina Turner shot her 'Private Dancer' video in the venue.
It's a fitting place for Florence's sweeping and grandiose art-pop as evident on Lungs but it's fitting for another reason. Welch grew up nearby and attended Camberwell College of Art so the gig is attended by many friends, family and locals.
If there were ever any doubt to Florence Welch's talent (and various rumours of a poor Glastonbury show and jests that "the machine" should be an auto-tune device) then that is instantly quelled tonight.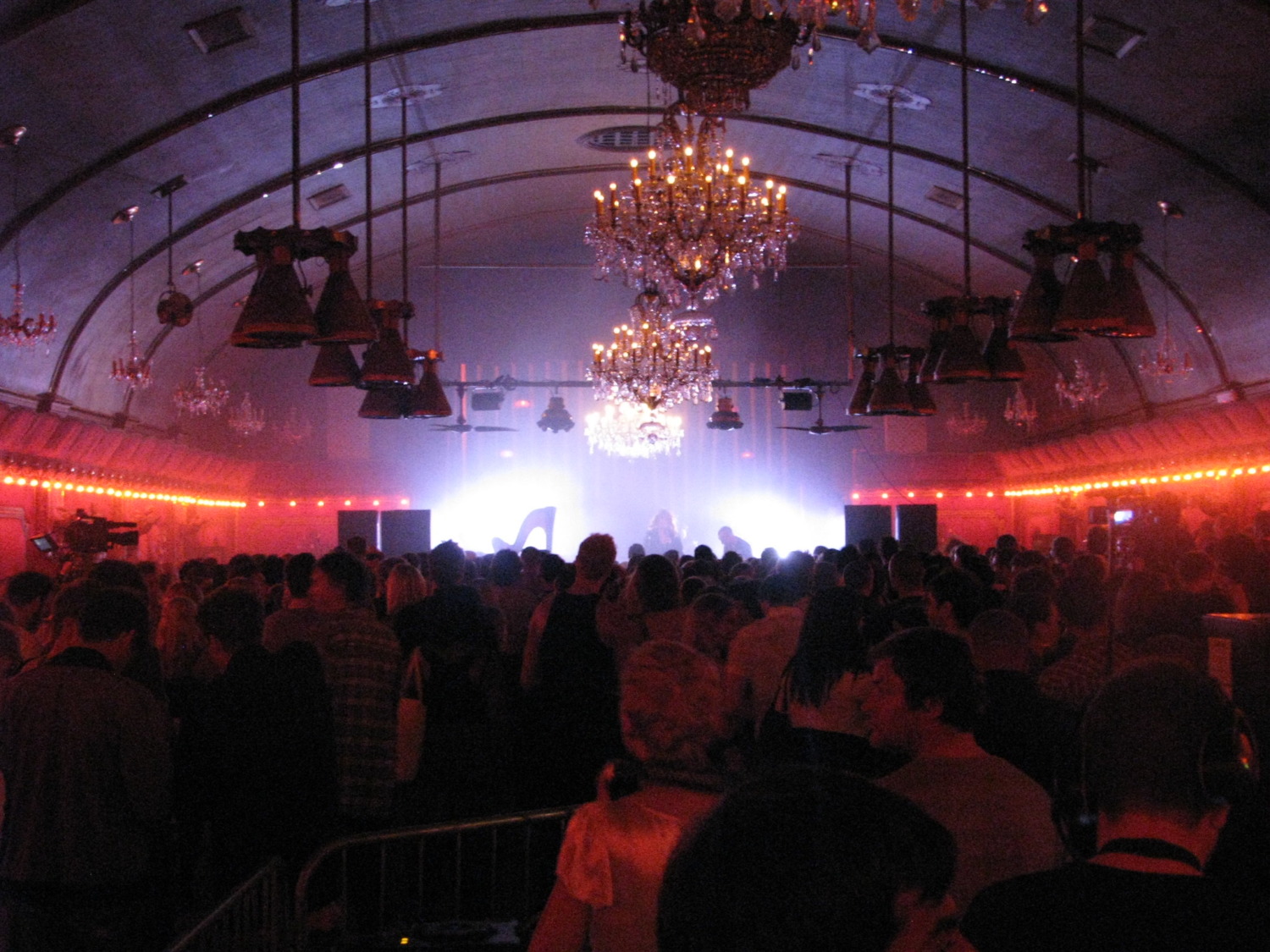 Upon first glance, she already looks like a star with her fiery red hair and a stage fan blowing it for dramatic effect. Her voice is note-perfect as she performs the first few songs with the band – the brilliant 'My Boy Builds Coffins' and that-O2-song 'Cosmic Love' amongst them – her arms flail dramatically and her pleasant dramatic timbre dominates. Lungs indeed.
It's a far cry from the nascent performance I saw at Electric Picnic last year. the instrumentation is much more majestic and her voice is much more soaring. The massive harp on stage makes its presence known and 'Dog Days Are Over' and 'Kiss With a Fist' are warmly received.
The venue itself being an old place, lacks air conditioning so it's hotter than a gig in the SFX circa 1995. Sweat starts to roll significantly and when Florence sings "Louder than Sirens / Louder than bells / Sweeter than Heaven / Hotter than Hell" on 'Drumming Song' she may as well be referring to the venue. Still she's got a fan which is nice, so it allows her to climb the speakers and throw herself around to the beat of the bittersweet alcoholic-friendly song 'Hurricane Drunk'. She's got soul.
Crowd won over, current single 'Rabbit Heart (Raise it up)' is played and despite all other range displayed Florence choses to lower the pitch of the rousing chorus making it a little less rousing. The "Raise it Up!" backing vocals are in effect and when the piano which doesn't register nearly as much on the recorded version introduces itself, it takes on a house piano vibe and suddenly we've got a special euphoric moment amongst the fog of sweat rising above the chandeliers. Follow that up with her cover of Candi Staton's 'You Got The Love' and there's a palpable feeling that she deserves every success she gets. She's playing on Sunday at Oxegen at 9:45pm. Hopefully, she'll be celebrating her first number one album by then.