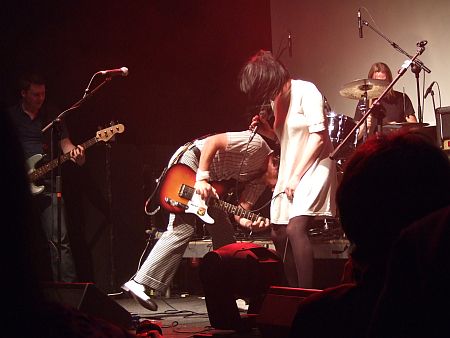 First off, I have to say I was (and still am) totally skeptical about the lack of variety at the Hard Working Class Heroes festival this year. 80 plus bands from Ireland with six acts from Canada largely represent the indie / indie rock genre with a very small amount of artists classed as other genres such as electronica (not a gritty Irish hip hop act in sight). Whether this be a lack of artists from other genres applying to the festival or a deliberate decision on the part of the organisers remains to be seen, but it results in a lot of sub-par bands playing while other, more innovative Irish bands are ignored.
Another sour aspect of the festival is down to everybody's favourite ticket outlet Ticketmaster's markup on the price of tickets. A one day ticket for the festival purchased from HWCH's headquarters in Filmbase costs €10, while a weekend ticket cost €22.50. Ticketmaster's prices start at €12 and €25 respectively and with the obligatory booking fee on tickets bringing it up to €14 and €27.95 respectively. Not really surprising for anybody familiar with Ticketmaster but a stark reminder of the company's profiteering agenda and one that's sure to piss off whomever bought a ticket from them.
So onto the music. I met up with Anthony creator of The Hype Machine before the festival for his first time in Dublin and we headed over to the Spirit Main room in time to catch Aleko. The band was fucking LOUD – the room vibrated with their Primal Scream meets Humanzi stylings but the sound in Spirit destroyed the vocals leaving a muffled bassy sound. The band were impressive. Next up were The Urges a band I'd never seen but my mate told me they would fit right in Liverpool's jangly pop scene. He was disappointed (as was I) by their set which mainly consisted of the singer shouting "WOOOOOOOO!!!" a lot with the end result similiar to being verbally abused through a megaphone while puking up in a toilet.
We headed over to the Music Centre to catch Ham Sandwich (terrible, terrible name). I'd seen them before when they supported Jeffrey Lewis and they were much more impressive last night with a frenzied fast-paced set. Having a female lead singer in a rock band can draw a lot of comparisons to Karen O these days but at certain times during the set Niamh Farrell sounded very similiar to the Yeah Yeah Yeahs frontwoman which is no bad thing.
Highlight of the night without any doubt goes to The Immediate. With all the praise heaped on them over the past few months I had to see what all the fuss is about. Here was four talented musicians who displayed boundless enthusiasm for their music, singing their hearts out to every word, swapping instruments and having a great time doing it. The audience responded to the announcement of every song and there were clearly devoted fans in attendance. The quality of the songs were evident and they were the first band of the night with distinct catchy riffs and a unique sound. I have to admit that while it wouldn't be to my complete taste, I can appreciate that they are a shining example to any young indie band looking to make it which is what the festival is all about. The outdoor stage and sound was a big plus to the set.
MP3
The Immediate – Stop and Remember
Video
The Immediate – Stop and Remember live at HWCH
[youtube]YiE-1gk6gKI[/youtube]
We finished the night in the Music Centre seeing Canadian band Wintersleep who's last instrumental song was more impressive than the rest of the set. Future Kings of Spain were up next but lack of sleep the previous night meant our attention span was quite short and we retreated home for the night.