It's been a bit quiet around here the last week due to excessive gigging / drinking / general good times. Last weekend, I was at Mantua Festival (mostly at the Alphabet Set electronic tent) which was a great laugh – Review here. This video was taken at 10am on Sunday morning. Poor fellah.

It's been all go since then with excellent sets from Beck and Radiohead in Marlay Park. The addition to Beck's stage show of puppeteers was very entertaining and I liked all the new songs that he played from his forthcoming album 'The Information' especially 1,000 BPM complete with Bear costumes. The bands pre-encore short film was hilarious complete with the puppets trashing Radiohead's dressing room and defacing a photo of Thom. Here's a video of it from YouTube. Oh, and speaking of new Beck songs, you can listen to Nausea and Dark Star on Beck.com's streaming media player.


Radiohead were good but probably not as good as the Point gig two years ago. The set lacked fluidity and a few of the new tunes were a bit sombre for my liking. Climbing up the Walls, Like Spinning Plates, Idioteque, Airbag and Morning Bell were personal highlights. Ais has a setlist here.
Daft Punk on Friday night were a bit of a disappointment for me (which you might have guessed if you read this rant). I was hoping that live would be a different experience than on record, but no matter how much I wanted to hear something off 'Homework' , when I did, it didn't grab me like I wanted it to. 🙁 Visually, the show was stunning and the atmosphere was electric at it. Image courtesy of Sinead.

Also managed to make it to Saturday and Sunday at the Dun Laoghaire Festival of World Cultures. I enjoyed Enzio Avitable's Bottari (barrel beaters) and missed Ska Cubano but caught Trans-Global Underground's live collaboration with the amazing Bulgarian vocal ensemble, Trio Bulgarka. The lead singer had the most amazing graceful voice and I loved her constant yelps of delight throughout the songs. Hearing live sitar playing wasn't a bad thing either.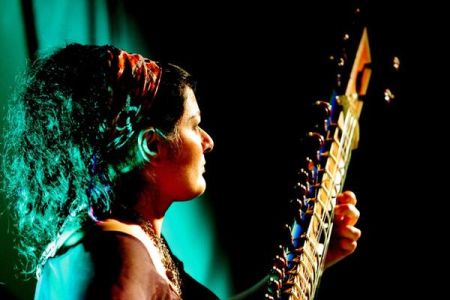 One thing though. Why, after such a good weekend of music is this Casio keyboard demo song stuck in my head?

MP3s
Beck – Ghettochip Malfunction (Hell Yes remix)
Beck – Bad Cartridge (e-pro remix)
Radiohead – Like Spinning Plates(live)
Transglobal Underground with Trio Bulgarka -Isis K
Transglobal Underground with Trio Bulgarka -Stoyane Male le
Related Tags:
Beck
Radiohead
Festival Of World Cultures
Trio Bulgarka