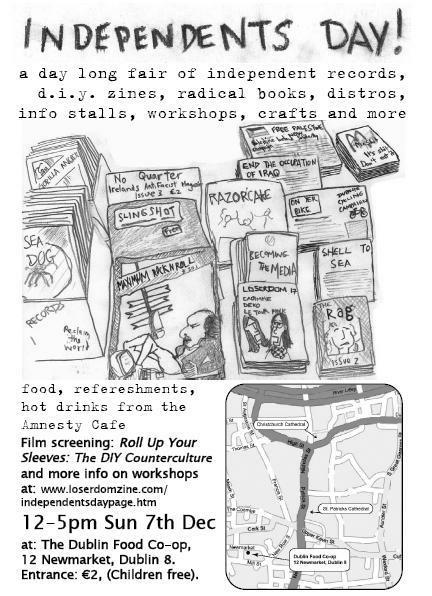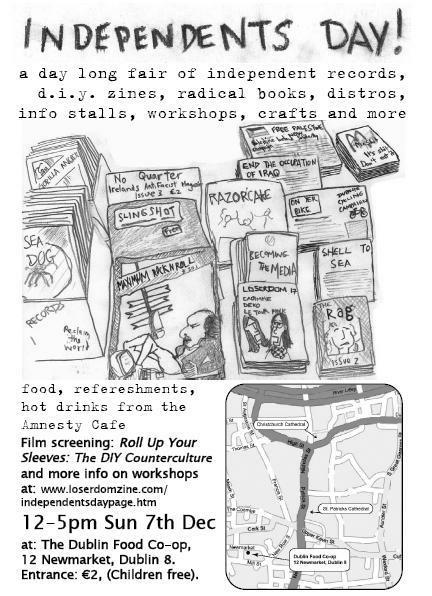 Independent's Day is a day long fair of independent records, DIY zines, radical books, info stalls, workshops, film screenings, crafts and more. taking place Sunday 7th December 2008 at the Dublin Food Co-op, 12 Newmarket, Dublin 8. More info after the jump.
Many Irish independent record labels will have stalls on the day, including The Richter Collective, Rimbaud Records & Stitchy Press. Info stalls will also be provided by Animal Rights groups, Seomra Spraoi and the Forgotten Zine library.
Along with stalls there will also be workshops focusing on self-publishing and community media , a film screening by young Irish film maker Dylan Haskins of his documentary about Do-It-Yourself culture: Roll Up Your Sleeves: The DIY Counterculture.
Workshops
History of Zines by Willie
Willie presents a history of zines. Willie for many years produced his own zine Non-Plastique (an early influence on Loserdom zine!). He also ran his own zine distro Ultra Red Star, before setting up with wife Natalia Red Ink radical books and zine shop (between 2004-2006), they now run their own publishing/record label Stitchy Press. He's one of the few Irish zinesters who can claim to have taken part in a zine speaking tour of the USA with a van-load of other zinesters. He also plays/played in numerous Irish Do-It-Yourself punk bands Bambi, Boneyard Witch and Oak.
Feminism and Publishing by The RAG
The RAG (Radical Anarcha-feminist Group) is a Dublin-based collective who publish their own zine dealing with womens issues and discussions of feminism in the modern context. Here members of the collective discuss notable feminist press, experiences of publishing The Rag, why print-form rather other media/projects and more.
Their third issue is due out the week before Independent's Day so look forward to getting a copy as well as attending this talk!
Community Television as Autonomous media: Hacking the Cable or Co-opting Video Activism by Dublin Community Television
DCTV is a non-profit co-operative that operates a 24 hour a day, 7 day a week ad-free television station broadcasting to more than ¼ million Irish households.
This workshop will look at the first year of DCTV, the structures that have evolved and strategies used to create an 'autonomous media space' and the key issues the station faces: technical barriers to production, professionalism vs. Volunteerism, localism and informal hierarchies amongst others.
While some of those who work with DCTV will identify with a zine / activist culture , is this relevant in an organisation with paid staff and a budget of 100s of thousands of euro. Presented by DCTV members.