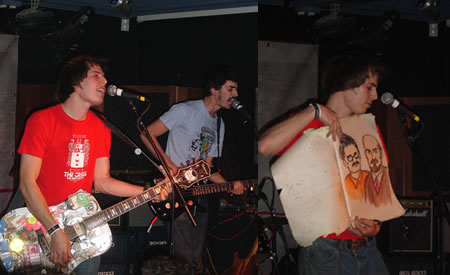 Jeffrey Lewis hitchedhiked his way into Dublin town last night to play an excellent show in Crawdaddy. Jeffrey is known for his blunt voice, direct lyrics and for his humorous comics. I wasn't too enamoured with Jeff before last night's show, I heard 'Chelsea Hotel Oral Sex Song' and 'The Last Time I did Acid I went Insane' before and was impressed, but quickly forgot about him. But he won me over last night with his amusing and seemingly ramshackle performance backed by his brother Jack and a great drummer. He sang punkier versions of songs off the album'It's The Ones Who've Cracked That The Light Shines Through' , as well as doing acappellas to PowerPoint presentations of his comic drawings. Highlight of the night was The Complete History of Communism Part 3 , a lecture in which Jeffrey charted the rise and fall of the Russia in the early 20th century, while still managing to be funny and insightful. Another highlight was 'Shoot the head, Kill the Ghoul'. Take a listen to that song and another song 'Alphabet' off the aforemented Cracked Album.
MP3s
Jeffrey Lewis – If you Shoot the Head you Kill the Ghoul
In other News, Broken Social Scene will be playing in Dublin again in Vicar Street on 18th May. Tickets are priced from €24.50 to €27.50 which is almost twice the price of the TBMC gig but still it'll be worth it! Looks like tickets are selling fast for this one, so be quick. Thanks to Kev for the heads up.
In other Mp3 Blogs this week – My Kentucky Blog has a new Ghostface and MF Doom track and Analog Giant has the new DJ Shadow mixtape , 'Funky Skunk'.
Related Tags:
Irish Gigs
Jeffrey Lewis
Broken Social Scene
MF Doom
DJ Shadow
Music