Two years ago, I ran a series of guest posts from people involved in Irish music featuring their top 5 Irish acts at that moment. This time around, I thought I'd shift the focus to international and ask a similar question – "Who are your top 5 new artists of 2011?". In this series, musicians, bloggers, record shop owners, journalists, bookers and radio presenters will be answering that question.
Jim Carroll is well known in Ireland for his weekly music critic input into The Ticket, the Irish Times' Friday culture supplement, his popular On The Record blog where it can all kick off in the comments and his Banter series of talks (the next one is December 7th with Sinead Gleeson, Miriam O'Callaghan and Conor Pope). Jim is always actively seeking out new music and attending festivals worldwide to that end so there's not many people better qualified for this guest post. Here are his five essential new artists of 2011 you must hear:

---

There are times when you become irrationally obsessed with an act and Alabama Shakes became that obsession for me in recent months. Wham-bam souled-out rock and r'n'b from an Athens, Alabama band who were a big wow at this year's CMJ festival in New York, thanks to superb retrofit tunes like 'I Found You' and 'You Ain't Alone' and Brittany Howard's magnificent blast of a voice. Album coming in 2012 so watch them soar.
---
Born in 2010 so relative newbies as a band, Come On Live Long's two EPs catch an act already exploring the edges of their intricate, fascinating sound with panache and aplomb. 'Elephants and Time' from their current EP Mender is what has us smitten about the Dublin band's sound and potential.
---
Every track from Girl Band to date – and there has been three to savour – sounds like the work of a totally separate band to the previous track. While this may cause many to ask will they cop themselves on and pick one route, there's something in such idiosyncratic, willful waywardness about the band formed from the ashes of Harrows which intrigues me. Live, as seen at Dublin's Bernard Shaw a few weeks ago, they've got plenty going on too.
---

It's rare to come across a brand new act for the first time on the telly but then, a show like Later With Jools Holland is a rare beast in the monotonous and homogenous world of the cathode ray. Toronto-born, London-based Al Spx was one of the stars of the current Later season, her folky noir-soul making you stop and stare in disbelief at what you were hearing. Debut single 'Holland' is wonderful, but 'Old Stepstone' is the real showcase.
---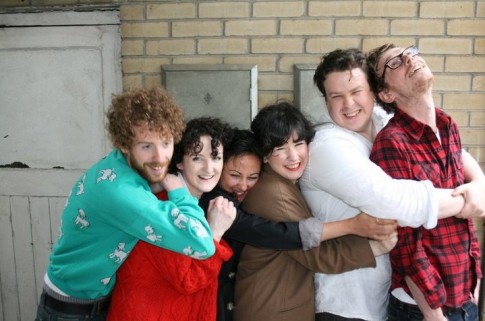 Sure, youse all know about Tieranniesaur but, my God, that album was a revelation when it came rocking, popping and snapping along over the summer. Sheer gleeful lust for life with sunnysideup block-rocking old-school funk-pop joining the dots between Tom Tom Club, Neneh Cherry and primetime Sesame Street.