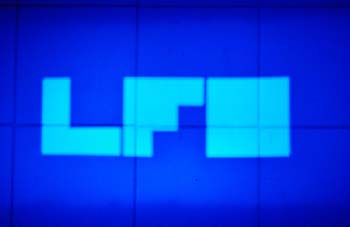 Sometime contributer Mike here. Hailing from a Leeds scene that included Nightmares on Wax and Ital rockers, LFO originally were a two-man techno/electro outfit comprising of Mark Bell and Gez Varley. Both liked alternative music from an early age, and they formed LFO after meeting at college. Bizarrely, it was money inherited from Varley's grandmother that enabled the duo to acquire the necessary sonic goods and really put their project on track.
Their first official release (and possibly most famous to date) soon followed; the eponymous "LFO" single, released on Warp in 1990. The track quickly mushroomed from the underground clubs and parties to the record shops and the radio, selling 130,000 copies and reaching no.12 in the UK Top 40. Testament to it's excellence is it's famed lambasting at the hands of Steve Wright (the then Radio 1 DJ who inspired The Smiths "Hang the DJ" after he played Wham!'s "I'm your man" following a radio news update reporting the tragic Chernobyl disaster). "Frequencies", their debut album, soon followed in 1991 to widespread critical acclaim. Sounding at times like early Orbital meets Kraftwerk via Aphex Twin, the album is often a cut above so many of the other acid house/electro releases of this period.
A lengthy gap followed until the pair released Advance in 1996, a fine offering if somewhat darker and more complex. This was to be their last album together as Bell and Varley parted ways, with the former keeping the flag flying for LFO. Not that he would manage to do much for another seven years; Bell had since become a much sought-after producer, and spent much this period producing seminal albums such as Björk's Homogenic and Depeche Mode's Exciter. Being a fan of the latter while growing up, he seemed somewhat overawed to be now producing a record for them; "I felt a bit odd when Depeche Mode were asking me for days off or what they should eat. I used to be into them when I was 12 and now I am deciding what food they're going to eat?"
The latest LFO album (and my personal favourite) Sheath was released in 2003. Featuring the fabulous (and famous) "Freak" amongst other fine tunes, the record is a wonderful mixed bag of contrasting electronic sounds compiled since 1996, which Bell describes as "all over the place". The Sheath mini-site is a nifty little piece of interactive multimedia created by award-winning digital designer Danny Brown, well worth checking out.
Another, even more mesmerizing LFO/Danny Brown collab may be found here – excellent fun! Also, a must see if you haven't already is Daniel Levi's Video for Freak – another A/V masterpiece in my humble opinion. Below are a selection of tunes, plus the excellent live set recorded in Brighton for Radio 1's Breezeblock sessions – it's quality right from the beginning, but listen to how heavy it gets ten or fifteen minutes in. Finally, LFO are playing a live set in the Temple Bar Music Centre on Saturday 4th November. Get your tickets at tickets.ie – I have mine. Follow the link below to buy LFO on Warp records official site.
MP3s
Related