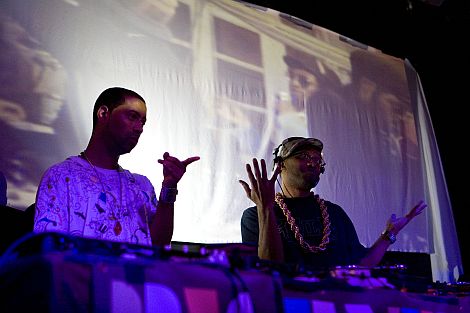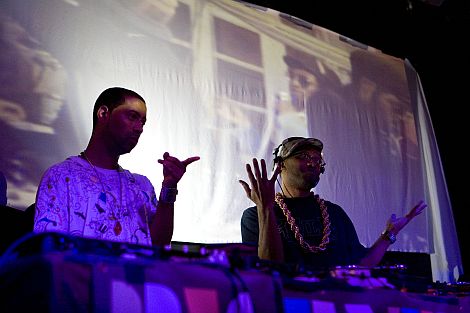 Despite being vapid for the previous few days due to cold and flu-like symptoms, I went along with some friends to the Madlib, J. Rocc, Chali2na show in the Tivoli theatre on Saturday. It was the first time I have been in the venue probably ever save for a possible childhood rendez-vous to catch "Jack and the Beanstalk" but I'm not too concrete on the details.
The venue was perfect for this kind of night. A nightclub setup with excellent sound, black and white tiled dancefloor and a humongous car-park sized smoking area. The setting was right and when we walked in to the venue, J. Rocc of the Beat Junkies was throwing out some excellent tunes that was getting the packed dancefloor moving. Chali 2Na formerly, of Jurassic 5 came out and did some new tracks of some new album of his. No matter, as Chali 2Na is officially, the nicest man in hip hop, the Dave Grohl of hip hop if you will. Afterwards, he went outside to the smoking area and did some spraying on the walls. He came back later and played a few oldies including "What's Golden" from J5.

Chali 2na
[youtube]http://www.youtube.com/watch?v=aFqIvCagGXQ[/youtube]
Shortly after, one of my favourite hip hop producers Madlib came out. What followed was a lesson in stoned beat artistry and it was pretty terrible. Hardly a song was played for 20 minutes while J.Rocc encouraged the crowd, Madlib never had lift-off. I spent the next while outside talking to people (including I think Mark, who is to send me a mix? Mark, get on it. )
I came back in once or twice and heard a few tunes of choice: particlularly the J Dilla Donuts ones and some other instrumentals I recognised as well as the original 10cc song from which the sample for "Workinonit" comes from. Madlib was mostly miss and took his stoned appreciation to a whole new level when he got on the drums and did some discordant jazz styles for 10 or 15 minutes. I felt bad as his production skills are impeccable and I had been telling people he is a great producer. Definitely didn't translate live though.
Madlib and J Rocc
[youtube]http://www.youtube.com/watch?v=pcvxGsSFtvQ[/youtube]

Madlib on the Drums
[youtube]http://www.youtube.com/watch?v=d0lhCD01yUk[/youtube]
It was near 3am by then and we left shortly afterwards when Egon (Was it him?) started playing. The dancefloor was looking pretty sparse at that stage too. So what could have been a great night was occasionally great but no more. One thing I have to criticise are the repetitive visuals – excellent in execution and production but too little material. Well at least you wouldn't forget where you were. Apart from that, well done to Choice Cuts on the night. The photos here were taken by Dolan. Check out his site here and thanks again.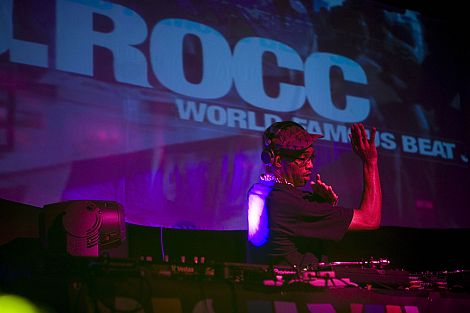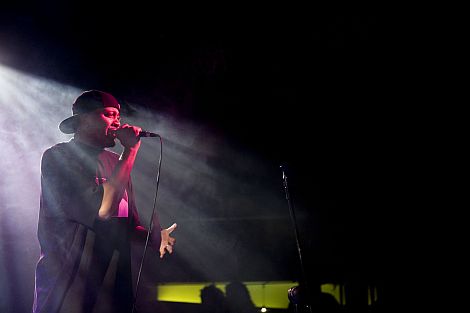 Anybody make it to Mos Def last night? Would have loved to see him do some stuff from Black on both Sides..though I expect it was a less-than pleasing rip-off of a show.