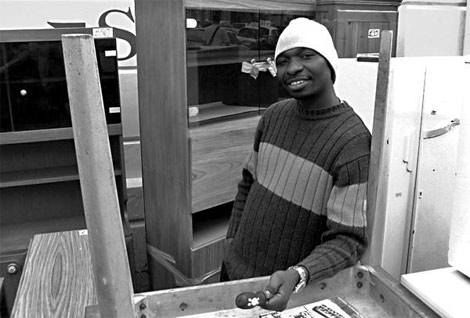 MIA's "Paper Planes" is the alternative tune of the summer for those who managed to avoid that Umbrella song so it's not surprising that there are different versions and remixes coming out at the moment. The first version (which Diplo used in that Pitchfork mix) features additional rhymes from Bun B and Rich Boy and it's great but I'm not going to post it here because of the wonky time change in the version going around (if you want it get it @ J'ai la cassette à la maison) .
The Esau Mwamwaya version moves the song into East African terroritory with a full on African language vocal facelift (Chichewa possibly, my ignorance of African languages is appalling). MIA can't be heard until the last verse but you'll hardly notice as this version is a beaut.
Esau Mwamwaya was born in Malawi where he played drums. In 1999, Esau moved to London where he currently run a second-hand furniture store in Clapton, East London. Also on the same street as DJ/ production duo Radioclit's studio. After Radioclit bought a bike from Esau they began to make music together.
If MIA's modus operandi is to give a voice to the third world, in an indirect way this version of the song is helping her do just that.
MP3
[audio:https://nialler9.com/mp3/tengazako.mp3]
Thanks to IHeartComix