Mindfield lineup announced for Electric Picnic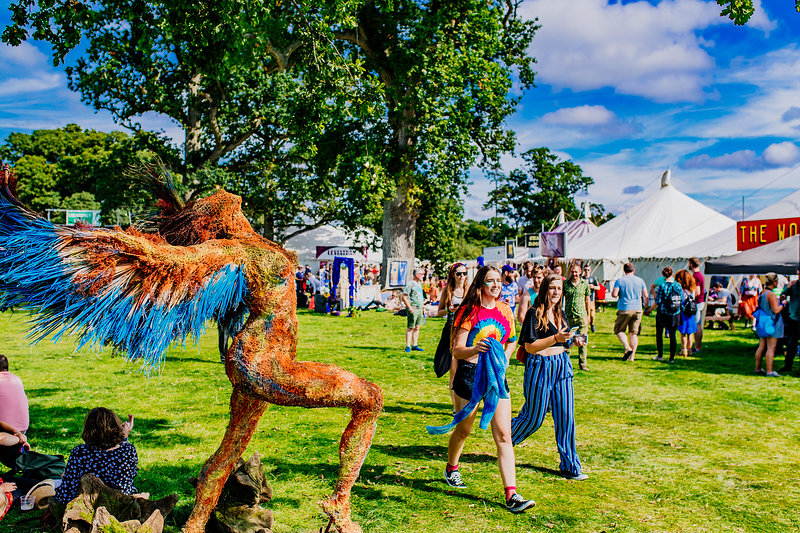 The Mindfield area of Electric Picnic has announced for Stradbally's sold out 2022 edition from September 2nd to 4th with a full programme of programme of spoken word, politics, debate, talks, podcasts, science and more.
Here's the overview in graphics and in words from EP.
Leviathan
Highlights of the inspiring and engaging programme in the Leviathan tent include speed debating with Salon du Chat; national treasure Miriam O'Callaghan hosting her annual Sunday Brunch with guests casting a jaundiced eye on the newspapers; and Waterford Whispers News presenter Bill Badbody presents his bitterly satirical landlords' TED talk. Dublin InQuirer presents: Generation Rack Rent hosted by award-winning writer and editor Lois Kapila; and the Transgender Equality Network Ireland present: Lost in Translation: Disinformation and Trans Rights in Ireland hosted by Claire Beck. The Department of Foreign Affairs' EU50 programme presents Blindboy's European Parliament; the Amnesty Hour covers the rights of sex workers, Paddy Cullivan presents the Murder of Michael Collins and History Ireland Hedge School educates us on unmanageable revolutionaries: women and the decade of centenaries. Leviathan hosted by David McWilliams looks at Ireland's Next Government. There's also the return of what The Irish Times called the funniest event of Electric Picnic 2019 – The World's Worst Book Launch: Chicago Blues by the thriller writer Saul Tillock aka Paul Tylak hosted by Gunther Grun aka Barry Murphy. Rounding out the evening entertainment is Professor Luke O'Neill's Metabollix all-star band.
The Manifesto
The Manifesto stage is this year curated by award-winning author and editor Sinéad Gleeson. One of the biggest rising stars of recent years, Denise Chaila will be in conversation with her collaborator Godknows, who in turn will be interviewing Irish rapper JYellowL. On Sunday, Derry Girls' Siobhán Sweeney will be chatting to comedian David O'Doherty about life after the iconic show. Writer Emilie Pine joins behavioural and data scientist Dr. Pragya Agarwal to discuss hysteria, emotions to talk about gender bias in their books; artist Aideen Barry and writer and academic Emma Dabiri join forces to ask, "What if we're the last generation of artists and thinkers?" inspired by Barry's landmark 2021 show Oblivion. Musicians Sorcha Richardson and Orla Gartland will play some music and reveal their approach to writing songs and what it's like to perform again post-lockdown. Aoife Martin and William Keohane have both engaged in writing and activism around Trans issues, and will be in conversation. Fresh from playing Glastonbury, singer Joy Crookes joins us to discuss her music and career to date. Comedian and writer Martin Warde and singer Sharyn Ward share their stories around identity and Traveller culture with some traditional music from Sharyn. Contemporary Irish poetry has never been as vibrant, and Jessica Traynor, Nithy Kasa and Elaine Feeney will be reading from their latest work. Kathryn Ferguson and Mick Mahon, two of the film-makers involved in Nothing Compares – a new documentary about Sinéad O'Connor – will tell audiences about the film and working with the legendary singer and Anú Productions and Museum of Literature Ireland present: Ulysses 2.2 – Sirens with performances from Fehdah.
Climate Actions Now presents: Africa Under Irish Skies – joyful nightly sessions from 7pm until late in the Manifesto stage where African artists will be joined onstage by well-known Irish artists and musicians to produce a fusion of African and Irish music, beats and tunes, combining rhythms, rhymes and African dance, featuring Tinta Tribe (South Africa and Mozambique), UltraSoft (South Africa), SGG (Zimbabwe, South Africa); and Citadel – a group of musicians formed in the Kinsale Road Accommodation Centre in 2018 (Burundi, South Africa, Ukraine, Angola , Tanzania) as well as Adam Mohammed, Aindrais de Staic, the Davis Brothers, Voilventine, Niall Morrissey and Roman Lewis
Human Lab
Brand new to MindField this year is Human Lab presented in partnership with Science Foundation Ireland and curated by Aisling Murray. Human Lab is a colourful, bold and brand new art and science hub with an exciting programme that will engage the audience in cutting edge scientific topics though compelling, interactive discussions, workshops and exhibits. Highlights include: Tactical Tech's The Glass Room Misinformation Edition: exploring how social media and the web have changed the way we read information and react to it including interactive installations and take-home workbooks; The Hangover Clinic led by Dr Lydia Devenney will tell you when the worst of your hangover may kick in, what exactly is happening and how best to deal with it; The "Science" Show takes the format of a quiz show and is led by Professors Luke O'Neill and Aoife McLysaght debunking bad science and conspiracy theories; Director and writer for film and theatre as well as artivist Maeve Stone's work responds to issues of climate breakdown; Andy Holden's Laws of Motion in a Cartoon Landscape – identifies and unpicks ten laws of cartoon physics; ADAPT the world-leading SFI Research Centre for AI-Driven Digital Content Technology will host a Citizen think-in as part of their #DiscussAI programme. There's also performance, installation and talk with Solar Flares – a poetic installation inspired by stories of space weather research from Dr Sophie Murray from DIAS Dunsink Observatory and Brendan Owens; and Chandrika Narayanan-Mohan who created the poems and installation. Also appearing on the lake at Stradbally Hall beside the lake swimming site will be The Eco Showboat – a zero carbon floating environmental arts infrastructure that aims to navigate our network of interconnected inland waterways to spark new creative collaborations addressing climate change, fresh water ecology and biodiversity.
Ah, Hear NOW!
The podcast stage is presented in partnership with NOW and we're delighted to bring some of Ireland's most popular podcasts together in one place. In fact, no fewer than four of the country's most popular top ten podcasts with millions of weekly listeners between them, covering economics, politics, sport, mental health, culture and comedy including The David McWilliams Podcast; The Blindboy Podcast; Hold My Drink with Charlene and Ellie; Where is My Mind? with Bressie; Stall It with Darren and Joe; Three Castles Burning with Donal Fallon; The Group Chat with Gavan Reilly, Zara King and Richard Chambers of Virgin Media News; Around The World The World in 80 Gays with Brian Kennedy and Katherine Lynch; The Substantial Meal Podcast with Justine Stafford, Martin Angolo and Dermot Ward; Chancers with Paddy Smyth and Anna Clifford; Inside Politics from The Irish Times; and Talking Bollocks with Terence Power and Calvin O'Brien; and Off the Ball sports. There's also cracking evening entertainment with Mockie Ah's Tea Dance hosted by Candy Warhol and special guests and the Camembert Quartet do songs from TV and the Movies.
An Puball Gaeilge will be running till 11pm each night with the usual talks, theatre, podcasts and music all as Gaeilge. The traditional music festival organisers of Nasc will fill the Friday night slot with the likes of the Bonnymen and Sisterix. Midday Saturday and Sunday Ted Talks will include intercounty hurler and rewilder Diarmuid Ling, along with ex-hunger striker and language activist Eoghan Mac Cormaic, and ex pop-singer cum yoga teacher cum spiritualist Jenny Ní Ruiséil talking about their discoveries along their journeys. These talks will be followed by Uair an Ghlóir Úir, where newbies will get a chance to perform their songs and then by podcasts like the much loved Beo Ar Éigin with Radio ! hosts Áine Ní Bhreasláin, Siún Ní Dhuinn and Sinéad Ní Uallacháin. High Rock Productions will present their hilarious theatre pieces and Na Gaelgáirí will be back with their stand-up comedians. Saturday evening's music will be presented by Féile Na Gealaí's Edel Ní Churraoin with bands like Tuath, JúcBox and Na Fae. Sunday night's program will be presented by Rossa Ó Snodaigh where performers Eric de Buitléir, Aoife Kelly, Mark Langan, Marcus Mac Conghail and band An Dara Chomaoineach will play out to end the Puball Gaeilge programme.
The Word stage brings beats, rhymes, poetry, hip-hop, grime and more, orchestrated and hosted by the great Marty Mulligan from Mullingar. Featuring: Stephen James Smith, Emmet O'Brien, The Poet Geoff, Rachel Lally, Eimer Keating, The Jealous Wall Storytellers, The Smithfield Creatives, The Circle Sessions, Darren Donohue, Jan Brierton, Sheila Ryder, Roo Elizabeth, Txpe Eater, Ska's Good Gravy, Ronan Ó Snodaigh, Zen Arcade, The Dead Irish, Bobby & The Blunts, Scally, Backroad Smokers Club, Shake The Moon, The Skamm, Cronin, Ruaile Bualie, The Love Buzz, Khaki Kid, Marcas Carcas and The Trail Gang, Billow wood, Megatrad, Sisterix, Harpanno, Paulie Martin & Friends, Cuige Creative Art, Codyy, Bog Bodies, Alp Luchra and Good Strangers.
---
Who's playing Electric Picnic?
Related