Youtube launches Music Key
With news that Google signed a deal with Merlin, a representative of more than 2000 independent labels, Youtube has finally launched the music subscription service that has been in the offering for a while.
YouTube Music Key comes in free and premium tiers, just like Spotify. Free is supported by ads and is really just a dedicated music section with trending and mood playlists along with sanctioned free album streams. The emphasis is on discovery.
The paid sub costs €9.99 a month (only available to invited beta testers right now and discounted to €7.99 for early adopters) and is ad-free. The app version features offline and background playback. Offline downloading also grabs the video as well as the audio. A Google Play Music All Access subscription is also included. If you already get that, then Music Key is free to you.
The UK, US, Italy, Spain, Portugal, Finland and Ireland are the first territories to get it though it's currently invite-only with a priority to users with a high Youtube music consumption rate.
Clear as mud. Read MusicAlly's full report.
---
Bandcamp subscriptions

As for truly independent music services, Bandcamp, who have facilitated $87 million in music payments to artists direct from fans, will soon offer subscription services controlled by artists and fans who sign up will get that artist's new music first and direct to the Bandcamp app too.
Artists can set the price but also offer existing music as incentive for signup. Bandcamp will continue to take 15% of a cut, with 10% taken after $5000 sales. Here's an example of a Subscribe page.
"It's kinda like what U2 and Apple did, except that it's music that you actually want!" the Bandcamp CEO told the Guardian.
Bandcamp's core music playback and UI could do with an overdue upgrade all the same.
---
Garth Brooks launches music platform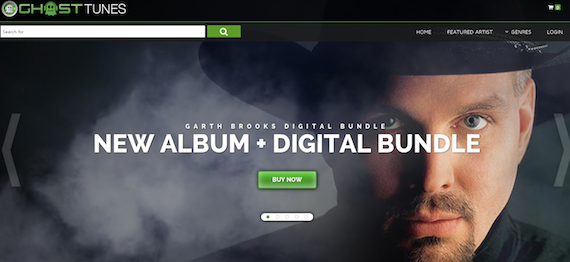 Yes, it's not a name you expect to see on this website but GB has endorsed a new music platform called Ghost Tunes (tagline: in the spirit of music) to sell his new album direct, which he and his partners are billing as an alternative to iTunes.
It's good idea for a man who has lots of fans who'll lap that shit up but also perhaps for country music in general, who are the dominant artists on Ghost Tunes, and could make it a viable player in the download game.
Especially, if you consider that the average age of a country music fan, might be older than most, so they may not have got fully onboard with digital downloading yet (CDs are bought by a largely older audience). Ghost Tunes could be their first bite at the digital cherry.
As for artists, well Ghost Tunes says it's about choice and is taking 20% of the revenue and not locking people into a platform.