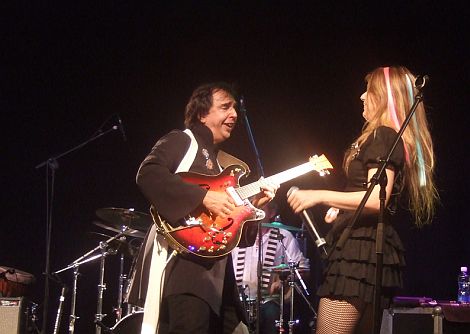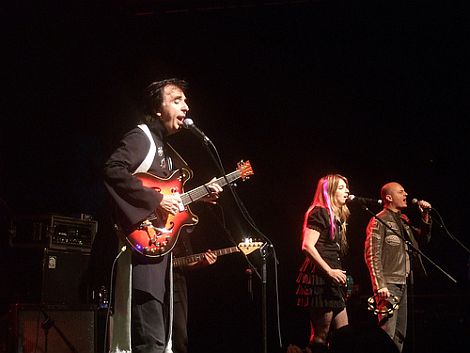 Os Mutantes live was definitely not what I was expecting. In a woefully attended Vicar Street, Os Mutantes with one original member missing (Arnaldo Baptista) and (judging by photos and videos I had seen previously) two other members – a guitarist and a lead singer (Zélia Duncan). There were mentions of sickness and kidney problems but the show went on. From the outset, it was as if there was an invisible wall between the stage and the audience that made the gig seem like it was going to suck. The first few songs did little to capture the imagination of the audience aside from native Brazilians who knew some of the songs. Something was lacking and it was definitely to do with the missing band members.
Little by little however, the songs got stronger and the performance took on more flair and energy. Sergio Dias is a quietly charasmatic frontman and I'd liken him to a Brazilian Paul McCartney but the rest of the band apart from the older drummer seemed to be made up of session musicians and I don't think this went unnoticed in the first half. The band were clearly enjoying themselves but the audience were not convinced. I heard Western influences laid bare in the songs: over-reaching psychedelic guitar solos with too much pomp, songs that sound like the Beatles (I was sure we were in for a "Na na na" Hey Jude Style chorus), Steely Dan and a few songs that go into prog-rock and Santana terroritory. Gradually, it became better and better until there were a lot of dancing feet.
It was the last five songs where Mutantes really salvaged the gig however. Playing a great version of "Bat Macumba" with a bridge which took away the syllables of the chorus line and built it back up again syllable by syllable and erupted into an almighty "BAT MACUMBA!" at the end and a great version of "Panis Et Circensis" really got the crowd going. So not a classic gig by any means then considering the high regard Os Mutantes have in music circles but what could have been a complete disaster ended in a minor victory.
An interesting sidenote for friends: The bass player looked so much like my mate Sean, it was uncanny. I just kept thinking it was him on stage! See..

Sean Mutantes


Video
Photos