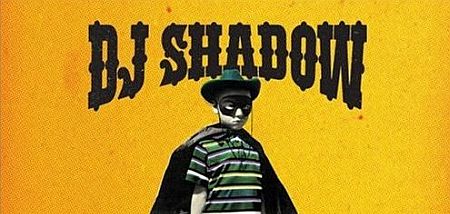 Since the heated debate about DJ Shadow's new album The Outsider has subsided and the album has been released, it's time to give my thoughts on it.
What struck me on the first few listens was the lack of cohesion throughout. It's like he deliberately set out to confuse not just fans but first time listeners. The album starts with a ridiculous quasi-menacing spoken work intro, then moves through soul, hyphy, alternative-rock, new-age mysticism and back to hip hop again. Honestly, I'm impressed by the guy's bravado in putting together the tracklisting. It makes no sense. So with that in mind, you are probably better off treating the album like a compilation, choosing the songs you like and ignoring all others. Sounds like Shadow's gift to the mp3 downloading community.
There are only five songs I can come back to repeatedly on the album. The best track for me is "Seein' Thangs", a brooding hip hop track featuring David Banner lamenting about Hurricane Katrina victims and the hopelessness of it all, over ghostly voices and palpable 808 beats. Banner's lyrics are as paranoid as they come – "Seeing things/ I can swear that I'm seeing things/ They're coming for your soul/ They already got the change /".
Other highlights are "Broken Levee Blues" – a electric guitar-led blues instrumental with the refrain "Nobody cares" also referring to the events in New Orleans last year. "Enuff" with Lateef and Q-Tip is Shadow's poppiest song to date but lacks the intensity of previous work. "This Time (Gonna do it my way)" is a pleasant exercise in soul and states Shadow's intentions for The Outsider while "Erase You" with Chris James will please fans of UNKLE records with it's alt-rock instrumentation over hectic beats.
Unforunately the lows far outweight the highs, much of which can be attributed to the hip hop/hyphy songs. The MC's are either annoying or uninspiring. Once or twice the music actually sounds good – witness the sirens during the last minute of "3 Freaks" or the bouncy start to "Turf Dancing", but these are forgettable songs. Worst thing here by far is excrutiating "What have I Done" with Christina Carter babbling new-age nonsense – "We all have thoughts and we are together / I am your healing spirit ". Makes me shudder to think of listening to it again.
Ultimately, The Outsider is a non-runner as an album with an appalling lack of unity and clash of styles making it a very uncomfortable listen. Maybe only Shadow himself could enjoy the polarity within making him the outsider he claims to be.
MP3s
DJ Shadow – Seein Thangs (Featuring David Banner)
[audio:https://nialler9.com/mp3/DJ Shadow – Seein Thangs (Featuring David Banner).mp3]
DJ Shadow – This Time I'm Gonna Try It My Way
[audio:https://nialler9.com/mp3/DJ Shadow – This Time Im Gonna Try It My Way.mp3]
DJ Shadow – Erase You (Featuring Chris James)
[audio:https://nialler9.com/mp3/DJ Shadow – Erase You (Featuring Chris James).mp3]
[ Buy The Outsider + DVD | DJShadow.com ]