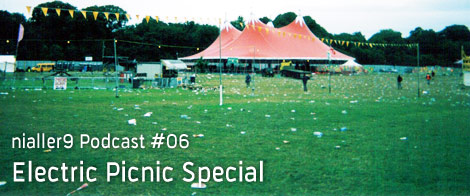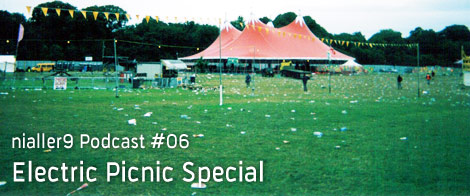 I think this is the upbeat podcast I've been promising all summer. As the sun finally shone this weekend, it puts us in good stead for the next when we descend on Stradbally once again for the festival of the year. So to get you all pumped about the Electric Picnic which starts Friday, this month's podcast is all Electric Picnic artists.
It can be the soundtrack to your preparations: frantically searching for timetables online, buying another tent because you weren't arsed taking down that huge 12 man tent last year, deciding whether to brave it without wellies or the last minute dash for toilet roll.
I'm looking forward to seeing two sets from the Beastie Boys so much so we started this podcast with a favourite of mine from the NY men. Enjoy and see you down the front! The voice of the podcast as always is Aoife Mc, presenter of The Indie Hour on 103.2 Dublin City Anna Livia FM. Check out the excellent blog.
Podcast #6 – Electric Picnic Special Tracklisting
Podcast #6 – Electric Picnic Special
Subscribe to the Podcast via iTunes
Subscribe to the Podcast – Other Programs