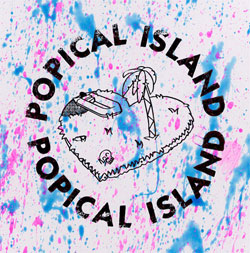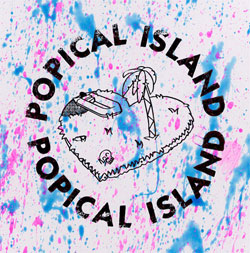 Compilation alert! Popical Island are a collective of bands and musicians who have little in common with the glut of Dublin music. Popical Island are all about indie-pop fun and have recruited a swarm of like-minded bands to join them in their day glow sunshine quest. There'll be no smoke monsters here fuck you very much.
The first fruits of the Popical Island terrain is Popical Island Compilation #1 featuring songs from Squarehead, Yeh Deadlies, Land Lovers, Groom, So Cow, Feed The Bears, No Monster Club, Pantone 247, The Walpurgis Family and more. 15 songs in total representing a fresh Irish sound. It's a testament to the collection that there is a cohesive strip to these songs, much more than most compilations – this feels like everyone involved got together to make it in unified indie-pop solidarity. There's lots and lots of promise in these bands which bodes well for Popical's future.
The album will be launched on June 19th with an all-day extravaganza in Whelan's Upstairs with nearly all 15 bands playing from 3pm. Sounds awesome.
Here is my favourite track from the compilation – Tieranniesaur (Annie from Yeh Deadlies) with 'Sketch!':
This tune from Squarehead is another standout – 'Fake Blood'.

Two more tracks from Groom and Yeh Deadlies and a video teaser in the full post.

Groom – Mysteries Of Life by popical_island
Yeh Deadlies – Teenage Pricks (Up Yours Forever) by popical_island
[ Twitter | Myspace | Facebook | Tumblr ]