My virgin attendance at a Public Enemy gig and I probably picked the best possible one to open my account with. PE performing one of my first and favourite rap albums It Takes a Nation of Millions to Hold Us Back.. in its entirey as part of the Don't Look Back concert series, well I had expectations but didn't expect them to be matched.
How wrong I was. 21 years after the fact and the PE machine is still very much in effect. Chuck D and Flava Flav are legends, no matter how many times their pre-show hype men repeatedly remind us, it still rings true. They are looking older now, no doubt. Chuck is 48, Flava is 49 but both of them have the energy of two six year olds.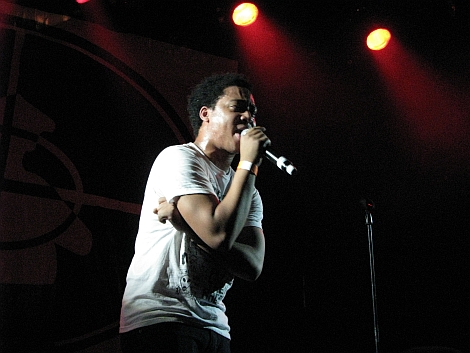 The run through of the album is prefaced by an uplifting set from a clearly tired Cadence Weapon his third visit in the last year. Producers of It Takes a Nation.., Keith and Hank Shocklee aka The Bomb Squad also assert their underground credentials with an out-of-place but enjoyable dubstep set. By the time, PE, their band, their entourage and of course, the S1Ws (armed with swords and in full khaki gear) take the stage, it is just past 10 o' clock on a Sunday and the crowd are ready.
Delightfully, DJ Lord drops the album intro 'Countdown to Armageddon' and you know this rendition is going to be as faithful as possible. Chuck and Flav bound and stage and delve into 'Bring the Noise', the crowd starts jumping and I'm really happy to be there. They are in reflective mode tonight talking in-between about their first Dublin show in 1987, explaining the origins of the name, a tired "Fuck President Bush" speech, some chatter about rubbishing "Queen Elizabitch" back in the day and album trivia including the nugget that Hank Shocklee switched the album sides at the last minute before the mastering process. They are clearly proud and delighted that people still give a shit and are thankful to fans for their support throughout the years. 'Terminator X to the Edge of Panic' is preceded by a tribute to the now-retired DJ and replacement DJ Lord is an equally good replacement.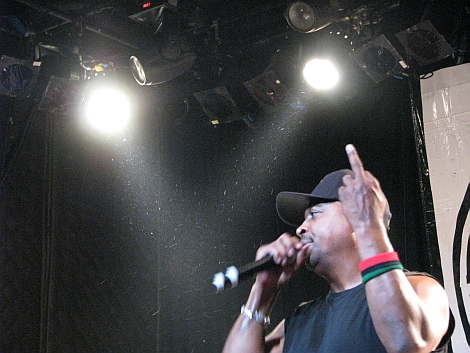 Some of the songs have stood the test of time more than others like 'She Watch Channel Zero' 'Caught, Can We Get a Witness?' and 'Rebel without a Pause'. I'm surprised that Flav is so endearing when he has a reputation for being one of hip-hop's ha-ha men. At one point, he apologies for his recent television work but qualifies it by saying he has to make a living. The album performance lasts for 70 minutes but they ain't done yet. PE are keen to bring out the hits and the crowd are treated to a clutch of classics: '911 is a Joke', 'Public Enemy No.1', 'Welcome to Terrordome', 'He Got Game', 'Shut 'em Down' and a rockin' 'Fight the Power'.
Louder than a Bomb

Pretty Sure Flav points at me @ 1:21 as he did all night to many a camera.
As the midnight curfew approaches they fit in as many jams as possible, keen to give the crowd their money's worth. Chuck D leaves at 12 but Flava continues for ten minutes ending with a speech on unity, peace and power. The Tripod soundmen get hilariously curtailed from complaining by PE stage security. As we leave the venue, Flav and crew are signing autographs, albums and selling CDs from the stage. 21 years and the enthusiasm still remains. Public Enemy, I raise my fist in the air to you.