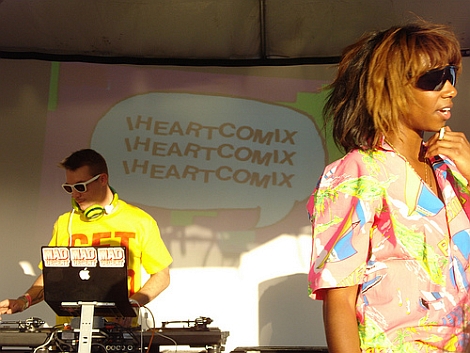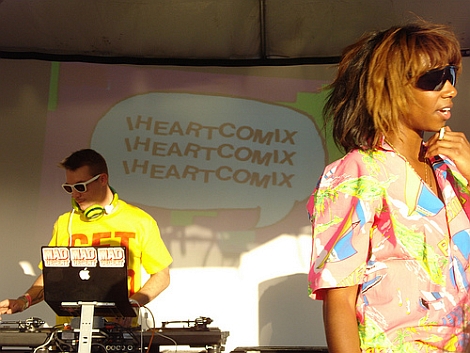 I've been holding off on posting this as every music blogger I read has been posting about it. BUT I got a lovely surprise in the form of the full mixtape in my inbox this morning so I could now listen and judge in full. The mixtape from these two which has been billed as Piracy Funds Terrorism Vol 2 by a lot of folks. The parallels are clear: Diplo produces a mixtape for Santogold with different versions of her tracks mixed into old classics from Devo, Desmond Dekker, Barrington Levy and Cutty Ranks as well as remixes from Radioclit, XXXXChange and Diplo himself. There's even a Panda Bear interlude and a cover of Bad Brains. full tracklisting after the jump. The Mixtape is MILES better than the Santogold album. Here's why.
Highlights:
I'm a Lady featuring Amanda Blank – A boomin' old school hip-hop ballad with Amanda pontificating about dating a rapper while her dad gives out to her.
The whole early segment involving classic tunes from Aretha Franklin, Devo, B52s and Gerri And The Holograms.
Santogold's Brooklyn version of The Clash's 'Guns of Brixton'.
MIA's appearance on the banging 'Get Up' which was produced by Radioclit and also features Gorilla Zoe.
The dubstep/grime section of the mixtape featuring Warrior Queen, Skream, Benga/Coki's 'Night' and Jammer, Badness, Chronik Rage, Slikman & Tempz.
I'm a Lady featuring Amanda Blank
LES Artistes (XXXchange Mix Ft Movado)
Santogold x Benga – Unstoppable / Night Dub
Creator (Mumdance Mix ft Jammer and Badness)
Buy the CD from Turntable Lab.
Tracklisting
1. Dub Selection Intro
2. 3-6 Mafia – Late Night (Unstoppable Mix)
3. Santogold – Shuv It (Disco D Blend)
4. Santogold – I'm A Lady (Diplo Mix Ft Amanda Blank)
5. Sir Mixalot – Posse On Broadway
6. Santogold – Lights Out (Diplo's Panda Bear Mix)
7. Aretha Franklin – Save Me
8. Devo – Be Stiff
9. B52's – Mesopotamia
10. Gerri And The Holograms – Gerri And The Holograms
11. Santogold – Anne (Switch Mix)
12. Santogold – LES Artistes (XXXchange Mix Ft Movado)
13. Cutty Ranks – Dutty Six Pack
14. Santogold – Find A Way (Graeme & Switch Mix Ft Kid Cudi)/ Lunar Camel
15. Richie Spice x Ratatat – Marijuana
16. Desmond Dekker – Shanty Town
17. Santogold – Guns Of Brooklyn
18. Dixie Cups – Iko Iko
19. Tony Matterhorn – Big Belly Guns
20. Santogold – Get It Up (Radioclit mix Ft MIA & Gorilla Zoe)
21. Mark Ronson In Studio
22. Trouble Andrew – Run – Hide
23. Sister Nancy – Pigeon Rock
24. Nora Dean – Barbwire
25. Shinehead – Know How Fe Chat
26. Clash – Ghetto Defendant
27. Warrior Queen – Check It
28. Santogold x Benga – Unstoppable / Night Dub
29. Shawty Lo x Skream – They Know / Stagger
30. Santogold – Creator (Mumdance Mix ft Jammer, Badness, Chronik Rage, Slikman & Tempz)
31. Xray / Turbulence Duplate (Starstruck Diplo Mix)
32. Barrington Levy – Send A Moses
33. Prince Jazzbo – Ital Corner
34. Santogold – Icarus
35. Santogold x Diplo – Right Brigade (hidden track)