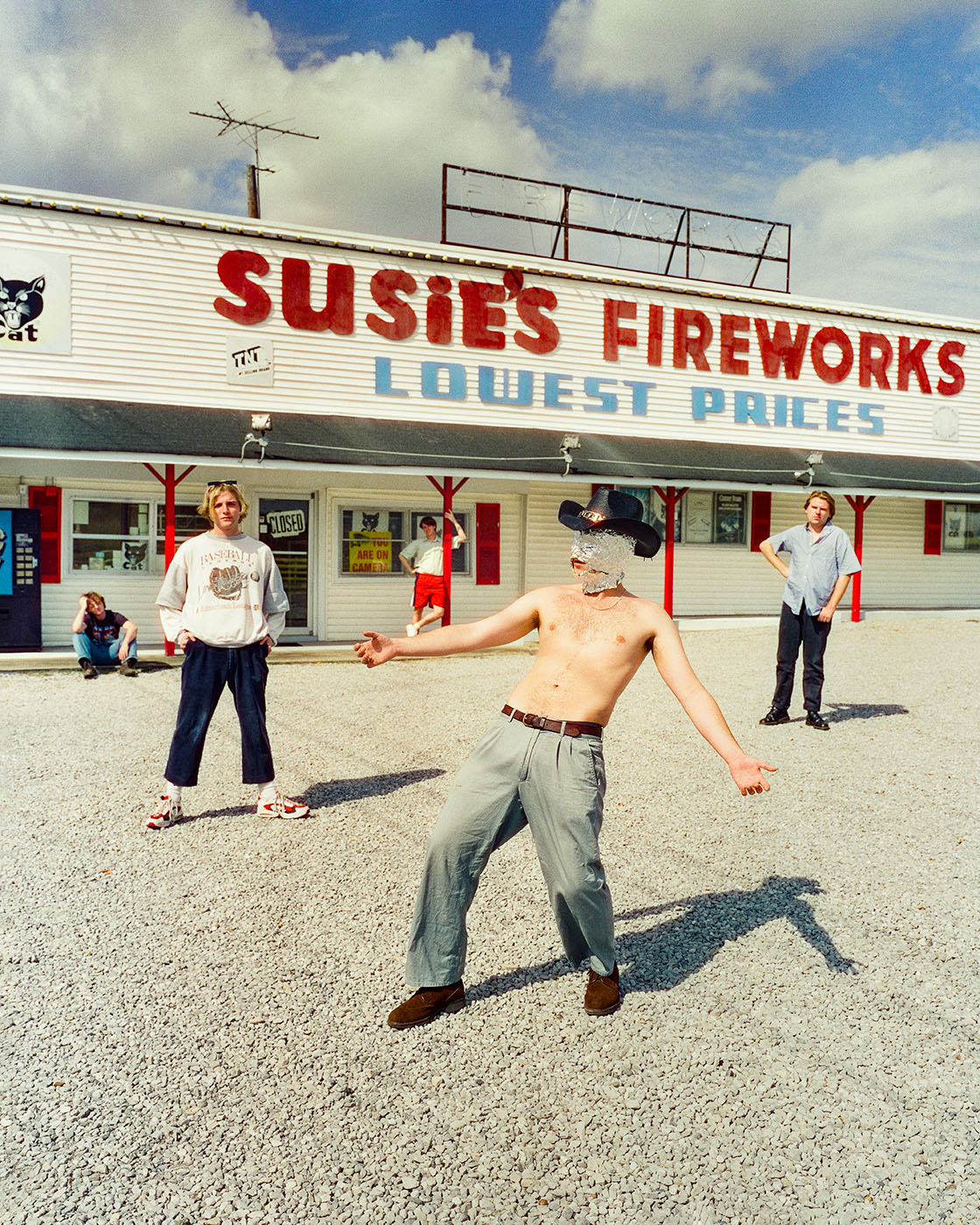 Photo: Pooneh Ghana
English post-punk band Shame who last played these shores at All Together Now Festival this past summer have been announced for a second headline Dublin show as part of their European tour
March 1st 2023 at the Button Factory is now sold out but a second show has been added on 28th February 2023 . Tickets are €22 plus fees from Singular Artists.
Shame's third record Food for Worms, due out on Dead Oceans the week before, February 24th 2023.
A preview song 'Fingers of Steel' is out now to watch / hear:
Shame have announced Food for Worms, their explosive third record, out 24th February 2023 via Dead Oceans. The band have also announced their biggest-ever European headline tour, including a night at Dublin's Button Factory and London's Brixton Academy (full dates below).
Shared alongside is the James Humby directed video for new single 'Fingers of Steel', which sees the band work 19-hour shifts creating fake social media accounts to like, follow and comment on their own material. On the video, Charlie Steen said: "Self-obsession, social media flagellation and death can all be seen in this Oscar nominated performance. No one's ever done a video like this before and when you watch it, you'll see why. Think Casablanca, but in colour, and better."
The announcement follows the culmination of shame's North American tour last month, in support of UK Top 10 second album Drunk Tank Pink, and sees shame enter a new, surreal landscape, as reflected in the cover art designed by acclaimed artist Marcel Dzama. It's suggestive of what is left unsaid, what lies beneath the surface, the farcical and fantastical everyday that we are living in, in a society where both everything and nothing is possible.
On the one hand, new album Food for Worms calls to mind a certain morbidity, but on the other, it's a celebration of life; the way that, in the end, we need each other. The album is an ode to friendship, and a documentation of the dynamic that only five people who have grown up together – and grown so close, against all odds – can share.
For the first time, the band are not delving inwards, but seeking to capture the world around them. "I don't think you can be in your own head forever," says Steen. A conversation after one of their gigs with a friend prompted a stray thought that he held onto: "It's weird, isn't it? Popular music is always about love, heartbreak, or yourself. There isn't much about your mates."
It's through this, and defiance, that the band have continually moved forward together; finding light in uncomfortable contractions and playing their vulnerabilities as strengths: The near-breakdowns, identity crises, frontman Charlie Steen routinely ripping his top off on stage as a way of tackling his body weight insecurities. Everything is thrown into their live show and the best shows of their lives are happening now.
Back in 2018, around debut album Songs of Praise, they were at the vanguard of a transformative scene that changed the underground music landscape in the UK; paving the way for artists soon to come. Then, Charlie Steen suffered a series of panic attacks which led to a tour's cancellation. For the first time, since being plucked from the small pub stages of south London and catapulted into notoriety, shame were confronted with who they'd become on the other side of it. This era, of being forced to endure reality and the terror that comes with your own company, would form shame's second album, 2021's Drunk Tank Pink.
Now they arrive, finally, at a place of hard-won maturity. Enter: Food for Worms, which Steen declares to be "the Lamborghini of shame records."
Reconnecting with what they first loved about being in a band hotwired them into making the album after a false start during the pandemic. Their management then presented them with a challenge: in three weeks, shame would play two intimate shows and debut two sets of entirely new songs. It meant the band returned the same ideology which propelled them to these heights in the first place: the love of playing live, on their own terms, fed by their audience. Thus, Food for Worms crashed into life faster than anything they'd created before. The band recorded it while playing festivals all over Europe, invigorated by the strength of the reaction their new material was met with. That live energy, what it's like to witness shame in their element, is captured perfectly on record – like lightning in a bottle.
The album marks a sonic departure from anything they've done before. shame have abandoned their post-punk beginnings for far more eclectic influences, drawing from the sharp yet uncomplicated lyrical observations of Lou Reed and the more melodic works of 90s German band, Blumfeld.
They called upon renowned producer Flood (Nick Cave, U2, PJ Harvey, Foals) to execute their vision. Recording each track live meant a kind of surrender: here, the rough edges give the album its texture; the mistakes are more interesting than perfection. In a way, it harks back to the title itself and the way that with this record, the band are embracing frailty and by doing so, are tapping into a new source of bravery.
Pre-order HERE
EU / UK Tour Dates:
FEB
28 | Ireland | Dublin – Button Factory
MARCH
01 | Ireland | Dublin – Button Factory
03 | UK | Glasgow – SWG3
04 | UK | Newcastle – Boiler Shop
05 | UK | Leeds – Stylus
07 | UK | Sheffield – Leadmill
08 | UK | Liverpool – Invisible Wind Factory
09 | UK | Bristol – SWX
11 | UK | Manchester – New Century Hall
12 | UK | Cardiff – Tramshed
14 | FR | Nantes – Stereolux
15 | FR | Paris – Cabaret Sauvage
16 | FR | Bordeaux – Rock School Barbey
18 | PT | Lisbon – LAV
19 | ES | Madrid – Nazca
20 | ES | Barcelona – La 2 de Apolo
22 | FR | Nimes – Paloma
23 | IT | Milan – Magnolia
24 | CH | Zurich – Plaza
26 | DE | Munich, Technikum
27 | DE | Berlin – Festsaal Kreuzberg
28 | DE | Hamburg – Markthalle
30 | NO | Oslo – Vulkan
31 | SE | Stockholm – Debaser
APRIL
01 | DK | Copenhagen – VEGA
04 | DE | Cologne – Gloria
05 | BE | Brussels – AB
06 | NL | Amsterdam – Melkweg
28 | UK | London – O2 Academy Brixton London
US Tour dates:
MAY
10 | Durham, NC – Motorco Music Hall
12 | Baltimore,MD Ottobar
13 | Philadelphia,PA Union Transfer
14 | Brooklyn,NY Warsaw
16 | Boston,MA The Sinclair
18 | Montréal,QC Foufounes Électriques
19 | Ottawa,ON Club SAW
20 | Toronto,ON Lee's Palace
22 | Kalamazoo, MI Bell's Eccentric Cafe
24 | Chicago,IL Thalia Hall
26 | St Louis,MO Off Broadway
27 | Lawrence, KS The Bottleneck
28 | Fayetteville,AR George's Majestic Lounge
30 | Dallas,TX Granada Theater
JUNE
02 | Austin,TX The Scoot Inn
03 | Houston,TX White Oak Music Hall
04 | New Orleans,LA Toulouse Theatre
Related