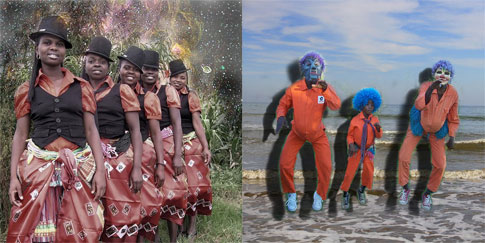 Since I first met up with Shangaan Electro producer Nozinja in Johannesburg in 2010, the ultra fast-paced marimba electro music was an unknown phenomenon. Since then, thanks to an Honest Jon's compilation and lots of media coverage, Nozinja and his team of dancers and singers have toured Europe, Australia and made appearances at Damon Albarn's Another Honest Jon's Chopup gigs in October last year alongside Fatoumata Diawara, Flea, Hypnotic Brass Ensemble, Tony Allen and Theo Parrish.
Last month, two new compilations appeared on digital download sites. The clown-faced boiler suited Tshestsha Boys' released Youtube Top Hits while Tiyiselani Vomaseve, a five-piece girl group released Tiyiselani Volume 1. All music is by Nozinja. Here's a tune from each:


Buy them at eMusic and on iTunes (US only).
Meanwhile, Honest Jon's are pressing on with their Shangaan remix project which has already seen the likes of Theo Parrish, Oni Ayhun, Ricardo Villalobos, Burnt Friedman and Peverelist have a go. A double CD entitled Shangaan Shake will be released on February 27th featuring those remixes and more from Actress, Hype Williams and Demdike Stare.
Tracklisting
1. Mark Ernestus Meets BBC
2. Oni Ayhun Meets Shangaan Electro
3. MMM Meets Tshetsha Boys
4. DJ Rashad & DJ Spinn Meet Tshetsha Boys
5. Burnt Friedman Meets Zinja Hlungwani
6. Actress Meets Shangaan Electro
7. Old Apparatus Meets Shangaan Electro
8. Theo Parrish Meets Mancingelani
9. Demdike Stare Meets Shangaan Electro
10. Peverelist Meets Tshetsha Boys
11. Anthony Shake Shakir Meets BBC
12. RP Boo Meets Shangaan Electro
13. Actress Meets Shangaan Electro 2
14. Hype Williams Meets Shangaan Electro
15. Ricardo Villalobos & Max Loderbauer Meet Shangaan Electro
16. Mark Ernestus Meets BBC Version