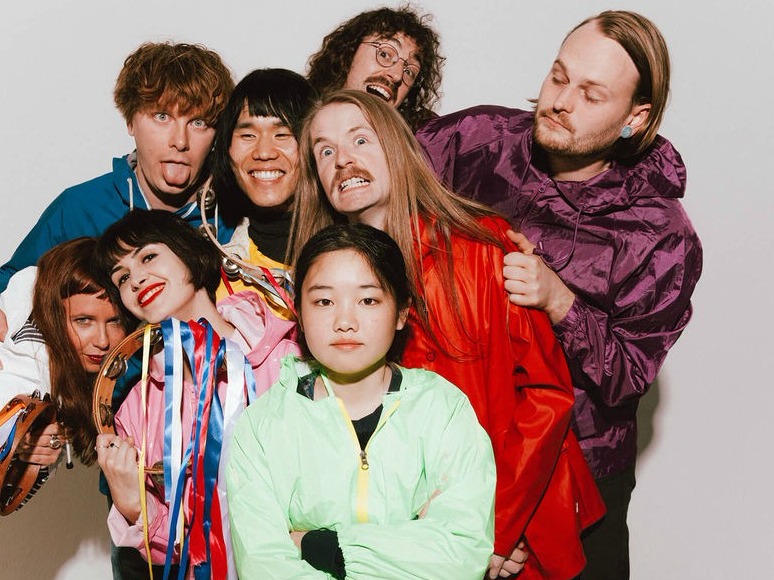 When people were asked 20 years ago what they thought music would sound like and how it would be written in 2018, I'm pretty sure they would have replied with a vague description of Superorganism – and they wouldn't have been far wrong.
Superorganism are an eight-piece art-pop band who formed in early 2017 consisting of members from England, Japan, South Korea, Australia and New Zealand. Up until a few months ago, the whole band had never formally met each other in person. As of September 2017, they all live in one house together in East London that doubles up as a 24-hour studio (you thought your neighbours were noisy?). The house is situated near the Walthamstow Marshes, where they go for long walks in their spare time. "It's really nice to get out and just clear your head there sometimes" says Harry, calling from said house in London.
Superorganism's formation didn't exactly follow conventional norms. The lead singer, Orono, is a 17-year-old Japanese school girl who met some of the other members while they were on tour in her native town of Maine (five of them used to be in a band called The Eversons). After establishing an online friendship and learning that she could sing, they invited her to sing on a demo they were working on called 'Something For Your M.I.N.D.', for a new original project.
'Something For Your M.I.N.D.' saw  release in February 2017 via SoundCloud. Within days blogs from all over the world were writing about it. The song's streaming count soared and emails from labels and managers began appearing in the band's inbox. Speculations about who the band were and where they had come from ranged from a Gorillaz side project to the band being composed of robots. The reality was perhaps even stranger.
Harry describes Superorganism's music as "eccentric pop – it's definitely pop music, even if it is a little bit weirder than what's in the charts at the moment". It certainly is. The instruments in 'Something For Your M.I.N.D.' range from a Moog bass to an apple (crunched, if you will). Orono wrote and recorded the lyrics into GarageBand in 30 minutes and emailed them back to the other members. It's the chorus that guaranteed the song's success. The hook is snappy and irresistible, jerking to a complete standstill when you least expect it to. The first time that I listened to the song I thought that my earphones were broken.
The internet has been an integral part to both Superorganism's formation and writing process. When I ask Harry whether living together and being able to write music together in real time has changed their songwriting style, surprisingly, he says that it hasn't.
"It's not changed a whole lot to be honest, we're all still working in our own different bedrooms," says Harry. "I might start a song idea and send it over to Emily's room, who might put a keyboard on it, and then she'll send it down to Orono in her room who'll add some lyrics.".
Living together has sped up the writing process significantly as they don't have to work around time-zone differences. The band write around the clock now – they wrote a lot more songs than they needed for their forthcoming album.
"We're kind of on this creative roll that isn't really finished yet",  is how Harry puts it.
I recently stumbled across a live video of the band performing the song acoustically at EuroSonic in Groningen. All eight of them are perched on the ground in a circle with Orono at the centre and Harry to her left. Percussion is provided by (literal) apple crunching and ground tapping, and everybody chimes in with backing vocals in the chorus'. The video looks like a scene that you would happen upon in a campsite on the last day of a music festival –  a group of people with glitter on their faces sitting around a tent playing songs.
Superorganism's music videos are just as outlandish as the songs are. Band member Robert creates them himself, "from the start, he's had pretty strong aesthetic ideas with what we do". When the band first formed, they made a Whatsapp group which they used as a mood-board to exchange pictures, videos and other visuals as inspiration for what Superorganism's aesthetic would be.
The progression of their image has been very natural and collaborative. The video for 'Nobody Cares' was inspired by a painting that Orono did of her father walking away from her in a yellow raincoat at a music festival.
In turn, the band decided that they would all wear raincoats on stage, "this is the cool thing when you've got eight people in a band. It just takes on person to plant a small seed, and then someone else can water that a bit and grow it into this tree. That's been the process for a lot of what we do really."
The video for 'Everybody Wants To Be Famous' saw release in January and tackles the speculations surrounding Orono's identity (online music forums made cases for her being a hologram). "People thought that we were a bunch of celebrities putting this together, and that Orono was a fake name… the truth ended up being a lot more mundane," Harry laughs.
The video is a diverse mix of static, colourful visuals including scenes of Orono getting her nails painted in a park, flying cats, washing machines and spaceships. Take note for the next time you're trying to dispel any silly rumours about yourself.
The multifaceted band's debut album Superorganism is set to be released on Friday on Domino Records. For most of the writing process, Orono was still living in Maine and fellow band member Seoul was living in Sydney (the album was finished before they all ever met each other in person).
The writing process was very organic – when it comes to creating a cohesive body of work, Harry says that its best to switch the analytical side of your brain off, "too much self-analysis will corrupt the creative process".
The album includes an eclectic mix of songs ranging from melancholy ballads to uptempo, "surreal" pop songs. Harry hopes that the album will act as a foundation for them to build upon in the future, in that the diversity of the music will allow them to pick and choose which direction they want to go in afterwards, "we want the Superorganism world to be constantly expanding and growing".
Superorganism certainly represent a new archetype for the modern-day band. If they continue to expand and grow at the pace that they are at the moment, their success could prompt a significant rise in the popularity of online collaborative music writing.
As we near the end of the phone-call, I ask Harry, given their success in a relatively short space of time, what he thinks is the factor that has made Superorganism's music resonate with so many people. After a contemplative pause, he answers "In a way, we're all outsiders. None of us are that rooted, geographically or culturally, in any particular place, which means that we've all got this perspective that's quite international. It doesn't have boundaries or tribalism connected to it".
Many members of the band relocated several times at a young age; Harry was born in England but moved  when he young, Emily was born in Australia and moved to New Zealand, while Orono was born in Japan but moved to America. "We're not part of a movement or a sound, we're just our own little tribe. We have a broad perspective and open mind to what we consume, so what we put back out is… well it's whatever the listener wants it to be, really" he claims. He describes their music as "culturally baseless", which he believes makes it accessible to people from all over the world.
Additionally, and perhaps crucially, Superorganism's music is uplifting. It doesn't take itself too seriously, and it doesn't attempt to tackle any major political matters. Lana Del Rey said in an interview once that it is an artist's duty to document and respond to political stimulus in their music. Yet, sometimes we are so engrossed in the lyrical and musical significance of a song that we forgot how to enjoy music for the sake of music. Just because a song doesn't tackle a major cultural issue, doesn't render it nugatory. The fact that Superorganism surfaced when they did was a small miracle; the world has been crying out for some fresh, effervescent music that they can dance to for months – whether they know it or not.
Superorganism play Forbidden Fruit this June.