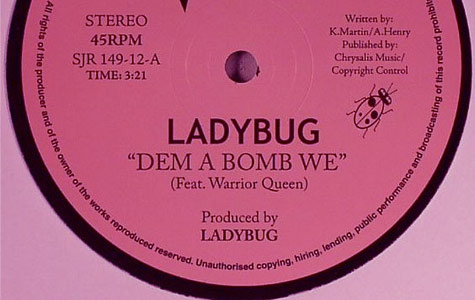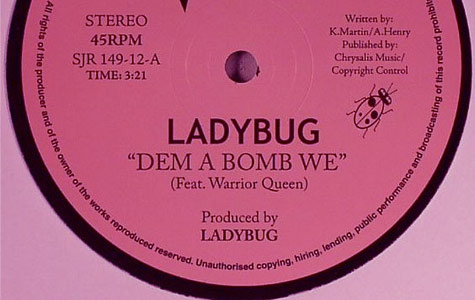 The first release of a new project from The Bug called Ladybug which will feature all female MCs. "Dem A Bomb We" is a radical reworking of an earlier project with UK Dancehall/Dubstep MC Warrior Queen and is a banger. Up on the myspace page is a track called "Minatura" featuring Baile Funk MC Deize Tigrona (She toured with MIA and I think I recognise her from Diplo's Favela on Blast Mix ).
Future releases from Ladybug will have appearances from Nicolette, Ari Up, Nolay, Zeebee, Sista Widey, Michie One, Cobra Killer, Judith Juillerat and Marina "La Canillas".
This single also appears on the forthcoming Dynamite Dancehall album featuring UK artists such as Digital Mystikz and Ladybug alongside Jamaican artists such as Beenie Man, Dillinger, Cecile and Lady Saw.
Keep an eye out on the Ladybug page for more.
MP3s
Ladybug feat. Warrior Queen – Dem a Bomb We
[audio:https://nialler9.com/mp3/ladybug_feat._warrior_queen-dem_a_bomb.mp3]
The Bug – Jah War feat. Flowdan
[audio:https://nialler9.com/mp3/the_bug-jah_war_ft._flowdan.mp3]
[Buy Ladybug from Soul Jazz – 12″ | Boomkat – 7″ ]