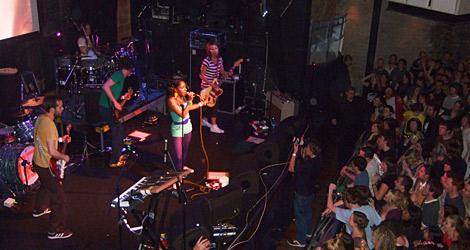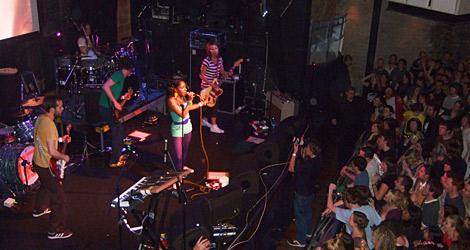 Where to start with last night's gig? Let's start with the positive. The Go! Team absolutely ROCKED Tripod. It was a masterclass performance from a band adept at crowd interaction with a barrage of exciting polychromatic indie pop tunes. Ninja commands the attention of the audience with her dance moves, jump rope skills, old school hip hop rhymes and call and response with an audience who gave the venue its best atmosphere I've witnessed since the re-opening.
Cadence Weapon arrived late after missing his flight and tried to get a crowd magnetised to the bar to join him which he did to some degree by getting into the audience and jumping around the front row. He was joined by DJ Weasel, a Canadian farmboy with some severe scratching talents. He culminated Rollie's set with an impressive headspin before leaving the stage.
Super Extra Bonus Party had the unenviable start time of ten minutes past opening time and as a result, people were only starting to file in, gravitating towards the bar as if the dancefloor has some kind of disease. Despite a 25 minute set which was cut short by one song, the reaction they received was positive as were my accompanying visuals but I'll get to that debacle in a little bit.
OK, so now we get to the negatives. I'm not an overly cynical person but a few things last night pissed me the fuck off last night. Let's start with the so far unmentioned gig sponsor Nokia and their Trends Lab idea which their manifesto claims as "a series of experiments designed to support your creativity… a physical and virtual hub of mobility experiences. Nokia wants to enable creative thinkers to push the boundaries of how they use mobility in their creative process." OK, so basically they want to sell the idea of their phones to you at gigs. Bluetooth! WOW! Shitty short-range radio frequency technology!
In fairness, the room wasn't as branded as the Electric Picnic stage they ran but there were enough annoyances to warrant a bit of a bashing. Twats in boiler suits hassling everyone coming in about Trends Lab with the greeting "Join our Experiment". They may as well have said "Join our Mobile Phone Cult, mere mortals!". Loads of cringeworthy footage between acts consisting of bands roped into talking about how great their Nokias are and how they use it interspersed with a call to text to win a phone at the gig. Does anyone in Nokia PR/Marketing understand how annoying this is for regular Joes and Janes? Do they honestly think that people are going to walk away from the gig going "Yeh, Nokia and the Go! Team, what a great partnership. Nokia kick ass!" WHAT THE FUCK?

My biggest gripe with the sponsor of the event was a personal one as a Nokia team in charge of visuals on the night. Never before have I had to negotiate with a PROJECT MANAGER when setting up visuals. I arrived at 4.30pm and told the Nokia guys I was present and ready to setup for the show. They looked at me like I had two heads and dismissed me straight out. Come on fellahs, I want to get in the creative process and experiment with you guys!! This pony-tailed smarmite took great pleasure in telling me they couldn't accept my video input while the project manager was upset that nobody told him I was going to be doing my thing. He was upset that Nokia would not be able to do visuals for all the acts and they were basically down to one act and all the in-between nonsense. He told me I would have to collaborate with them by using some footage of the gig people had Bluetoothed to their desk (Which I didn't) as well as the admittedly impressive onstage Nokia phone cameras sending live feeds which I didn't have a problem with. This was the only way I would be able to do my stuff. Smarmite even tried to get me to don one of their Nokia labcoats, the fool.
Thank god for the presence of Eoghan Kidney who was the voice of reason on the night. He was able to convince the others that it wouldn't be a problem so I was able to do my job. Thanks to Eoghan for allievating the bullshit and helping me out. After I did the visuals for SEBP, I let Eoghan use my computer for Cadence Weapon's set and when I returned the ponytailed smarmite chimed in with some more sound reasoning. He was trying to tell me I COULDN'T TAKE MY OWN LAPTOP. WTF? His flawless logic was that they did me a favour by letting me do my job so I had to leave my laptop there until they were ready to return it to me. What an asshole. Eoghan, yet again was the voice of reason and I took what was rightfully mine.
Another blotch the night was witnessing some rough handling on the security's part on a few of the audience. My friend told me he witnessed a few thumps been thrown at one guy while another witnessed Rollie Pemberton get a mountain of hassle from security guards with walkie talkies when he walked off the stage to go to the dressing room because he didn't have a wristband (He arrived late, but had just walked off the stage!). Another gig-goer jumped on the stage, danced with Ninja for a bit and then tried to get back over the barrier into the audience. He was caught on the cusp of freedom and was promptly dragged by the hair on his head out of the venue.
I'll finish up with a few more positives. Myself and the SEBP lads introduced Rollie and his DJ Eric to a certain fine tonic wine called Buckfast. Rollie was a real nice fellah who has recently done a remix for Super Extra Bonus Party (on an upcoming Vinyl EP due out late January) and he talked about his new album "After Party Babies" (What his dad used to call him), Owen Pallet and Canadian rocket beer.
Another surprising highlight was the presence of Bob Jaroc, who was doing visuals for the Go! Team. Bob is a bit of a hero in my books having produced a great collaborative DVD with Plaid called Greedy Baby. I was delighted to find that was an agreeable, approachable, likeable bloke who was very encouraging about my visuals and surprised me by knowing some of the more obscure stuff I use. If you don't know his work, start at his website.
So musically the night was fantastic and I met a guy whose a bit of an inspiration to me. Unfortunately all the corporate, bureaucratic nonsense detracted and overshadowed the positives for once which was a great shame. Still these videos give an accurate representation of the night as I would prefer it to be remembered.
Videos
Cadence Weapon – Sharks (3:23)
[youtube]http://www.youtube.com/watch?v=wGWGNlDXe8o[/youtube]
The Go! Team – Panther Dash (0:49)
[youtube]http://www.youtube.com/watch?v=sK_UibZ_HDw[/youtube]
The Go! Team – Ladyflash (0:49)
[youtube]http://www.youtube.com/watch?v=ah638jckM80[/youtube]
The Go! Team – Flashlight Fight (3:00)
[youtube]http://www.youtube.com/watch?v=n2ufKKEK53g[/youtube]