Highlights: Liv.e, Osees, Lankum, Life Festival, Rock Against Homelessness, The Range, King, Deli Girls, Benny the Butcher, The Bonk, Gogol Bordello, Sir Chloe, New Dad, Oddisee.
All door times are 7:30pm/8pm unless stated. Check links for full prices.
---
Skip to day: Tues | Wed | Thurs | Fri | Sat | Sun | Mon
---
Tuesday May 23rd
Ruby Sessions @ Doyle's (8:30pm)
Weekly Tuesday acoustic night in aid of Simon Community. See link for announced acts.
Osees @ Button Factory
American garage-rockers put on a great show.
DMA'S @ 3Olympia Theatre
Australian three-piece rock band on their fourth album. 'Fading Like A Picture'
Sound House Rising @ the The Sound House
New music night with Sound House Rising: Dave Lofts and Sand, Cohorts & Backseat Drivers
---
Wednesday May 24th
Fay'd @ Merrion Square Park (Noon to 2pm)
A Lunchtime rap set as part of International Literature Festival Dublin.
Cold Summit @ The Big Romance (6:30pm – 10:30pm)
Rap night with Jehnova, Luthorist, Nealo, Rebel Phoenix, Sivv, Celavidmai
First Music Contact Seminars @ Dean Arts Studio (6:30pm)
Social Media with Minding Creative Minds
Liv.e @ The Workman's Club
LA-based, Dallas-raised neo-soul artist. 'Ghost'
Deli Girls @ The Workman's Cellar
New York noise punks
Gogol Bordello @ 3Olympia Theatre
Ukrainian international punk rock band.
Sir Chloe @ Academy Green Room
American indie rock band from Vermont lead by Dana Foote. 'Salivate'
NewDad @ The Grand Social
Short notice announce headliner from Galway indie band. 'In My Head'
Pizza Jazz @ Lucky's
Live jazz trio on Meath Street.
Jazz @ Juno
Adam Nolan is an Irish saxophonist, composer, producer and rapper
Liquid Beat @ Dashi
Free in queer electronic night, weekly.
---
Thursday May 25th
Seeking Judy Party @ Hen's Teeth
KhakiKid, Ahmed, with Love., Chameleon, Qbanaa, Lou, Fhionn. Free party.
Swim Deep @ The Grand Social
British indie pop band.
Africa Night 2023 @ The Well
feat: Sli Na Croi / Ibrahima Conde/ Anitchie
Tung in Cheek, Qbanaa, Fynch @ The Workman's Club
Knockoffs & Dummies EP Launch.
Drew Makes Noise, Meljoann @ Bello Bar
Northern Ireland's Drew Makes Noise celebrates the launch of his new album Let The Whole Tape Run will a full-band Dublin show.
Secret Sessions @ The Sound House
The fifth in the series of secret lineups. In aid of the Musical Youth Foundation.
Bríd Lyons, Luke Clerkin @ Whelan's Upstairs
Double header with Kilkenny folk artist & Tallaght singer-songwriter.
Blazer, Dig Deep, Tonality, Ibex @ Whelan's
Dublin art rock band headline.
Billy Talent @ The Academy
Canadian rock band
Somebody's Child @ Aloft Hotel
Free gig on the seventh floor
Live Jazz @ Dashi
Weekly live jazz night in the basement with band leader Dylan Lynch of Soda Blonde/Moondiver and friends.
Emo Nite @ The Workman's Club Dublin (11pm)
Exactly what it says tbh.
---
Skip to day: Tues | Wed | Thurs | Fri | Sat | Sun | Mon
---
Friday May 26th
Life Festival @ Belvedere House
First big dance festival of the year. Amelie Lens, I Hate Models, Patrick Topping, Sama Abddulhadi & more
Max Zanga, Cbakl @ Merrion Square Park (Noon to 2pm)
A Lunchtime alt-rap and DJ set as part of International Literature Festival Dublin.
AE86 + The Lounge present: Day Party @ The Grand Social (2pm – 9pm)
AE86 Residents, The Lounge Residents, Puzzy Wrangler Residents
Rock Against Homelessness: Lyra & more @ 3Olympia Theatre
Pop-focused charity night with Aimée, Toshin, Pastiche, Bobbi Arlo, Jack O'Rourke with MayKay, and Isaac Butler with MC Laura Whitmore
The Range @ The Workman's Club
Rhode Island electronic producer has a a faculty for melding frenzied footwork percussion and melodic R'n'B vocal cut-ups to generate emotional bass music for the bedroom and the club. 'Mercury'
Eric Bibb & His Band @ Liberty Hall Theatre
American blues musician.
Benny the Butcher @ Button Factory
Griselda rapper. Thank God I Made It Tour. Support: Jealous of the Birds
The Pearl Hearts @ The Workman's Club
London blues rock duo. 'MORE'
Richard Dawson @ Whelan's
English folk-influenced singer-songwriter.
Conor Guilfoyle Octet @ Bello Bar
Celebrates Miles Davis's birthday with a night of classic jazz
The Last Vinci @ Sin É
Irish alt/stoner rock trio
Plastic Cowboys, Local Boy, Muttonhead & Artsipolo @ The Sound House
"Come get abducted".
Jio @ All Good Wine Bar
8pm to late with Nevan Jio.
Orbital Classics DJ A/V Set Feat: Phil Hartnoll @ The Well (10:30pm)
String Theory Sounds / Rob Le Nan / NMS on support.
Fight Night IV @ Tengu (11pm)
Fight Night is an ongoing project to introduce minority communities and scenes into contemporarily relevant club spaces. All-queer lineup with Roo Honeychild, Angel Honeychild, Soria, Bull Horris, Rhyzine, Ruby Red, Lychee, E The Artist
Small Trans Library x DIAxDEM – Big Queer Dance III @ Wigwam (11pm)
Expect forward-thinking, percussive club music as Big Queer Dance returns with its third charity fundraiser. All proceeds will go to Small Trans Library, a Dublin-based mutual aid fund for trans people who are out of work or struggling.
KING: Launch Party @ Opium (11pm)
Claire Beck's new club night for queer women and their friends.
Rhoshi, Sloucho @ The Racket Space (11pm)
Ahead of his album's release, experimental electronic producer Rhoshi debuts an arsenal of ethereal, highly-textured bass music quietly crafted over the last 2 years. DJ Set by Sloucho.
Anam Dublin @ The Workman's Club (11pm)
Anam is a new home-grown club night showcasing local talent. Rian x Sella, The Lounge, Oisin Brennan x Playboi Charlie
Marcus O'Laoire & January Winters @ The Pyg (11pm)
Irish DJ double header.
We've Lost Dancing @ The Grand Social (11pm)
Playing the music of Fred Again, Bicep, Skrillex, Barry Can't Swim…
---
Saturday May 27th
Life Festival @ Belvedere House
First big dance festival of the year. Belters Only, Skin On Skin, Sunil Sharpe, Blk. and more
Dublin City Tape & Record Fair @ The Circular (12-5pm)
The Other Hand bar
Shrek Rave @ Opium (4pm – 10pm)
Yeah I didn't believe it was a real thing either. Go Green.
The Bonk, Elaine Howley @ The Sugar Club
The Bonk is a project exploring the compositions of songwriter and improviser, Phil Christie. Check out recent song 'Blueshirt Shuffle' and new album Greater Than or Equal to the Bonk.
Outstraight Presents: What's All The Racket @ The Racket (2pm – 8pm)
Free Outstraight party in the outdoor areas of the Bernard Shaw, incl. live street art, DJs & a hip-hop showcase
Toucan @ Whelan's
Waterford-born pop, funk and soul artist Conor Clancy
Lost In Your Mind, Filler, Knife Bear @ Bello Bar
Post-punk lead night.
dreamcastmoe @ Hen's Teeth (9pm)
American artist crossing the boundaries of jazz, R&B, funk, soul, and house. Free in.
Real Talks Art _ Rooftop Series 014 w/ Cruz @ Bad Bob's Rooftop (8pm)
Cruz (PT), Royce Larøca, NIZ, Max Dufficy, Mathäus and more…
101 Depeche Mode Party @ Fibber Magee's (9pm)
Depeche Mode all night.
ddr. presents: 27th Heaven @ The Racket Space (10pm)
Dublin Digital Radio party with residents Tsara, host of 'We Play Good MusiQ' and Rachel Reid of 'Drink More Water'.
Tender 006: Marie Malarie @ Yamamori Tengu (11pm)
East London based DJ, producer, promoter, crate digger and vinyl connoisseur.
Mother @ Lost Lane (11pm)
Queer clubbing in the heart of Dublin, playing electro & disco every Saturday night.
Not Safe For Work @ The Grand Social (11pm)
Monthly queer fetish party.
Colin Perkins & Barista Boy @ The Pyg (11pm)
Pyg head honcho.
Mayfair Saturdays @ The Grand Social Ballroom (11pm)
Afrobeats with DJ Ahmed.
---
Skip to day: Tues | Wed | Thurs | Fri | Sat | Sun | Mon
---
Sunday May 28th
Life Festival @ Belvedere House
First big dance festival of the year. Carl Cox, Mall Grab, Tommy Holohan, Charlie Sparks & more
Krystal Klear, DJ Deece @ Hen's Teeth (1pm-4pm)
Daytime party to celebrate KK's new EP Automat Kingsland.
ILFDublin: The Behan Ballads: A Walking Tour @ Meeting Point: ITMA, 73 Merrion Square South (2pm)
Join host of the Three Castles Burning podcast Donal Fallon and traditional folk singer Macdara Yeates for a stroll through Dublin city, to experience the streets and songs that shaped the life and work of poet, playwright, novelist and singer Brendan Behan.
Swimmers Jackson @ The Workman's Club
London-based Irish songwriter's latest album of indie rock music was recorded in Limerick with Micháel Keating (Bleeding Heart Pigeons). Bandcamp.
Molly O'Mahony @ Whelan's Upstairs
Mongoose singer playing solo folk material. 'Brother Blue'
Hang Massive @ Button Factory
Day and night shows from the new agey steel pan duo.
Cut & Sew Turns 10 Afterparty: DJ Deece @ The Pyg (10pm)
Following the party at the Sugar Club earlier in the evening.
---
Monday May 29th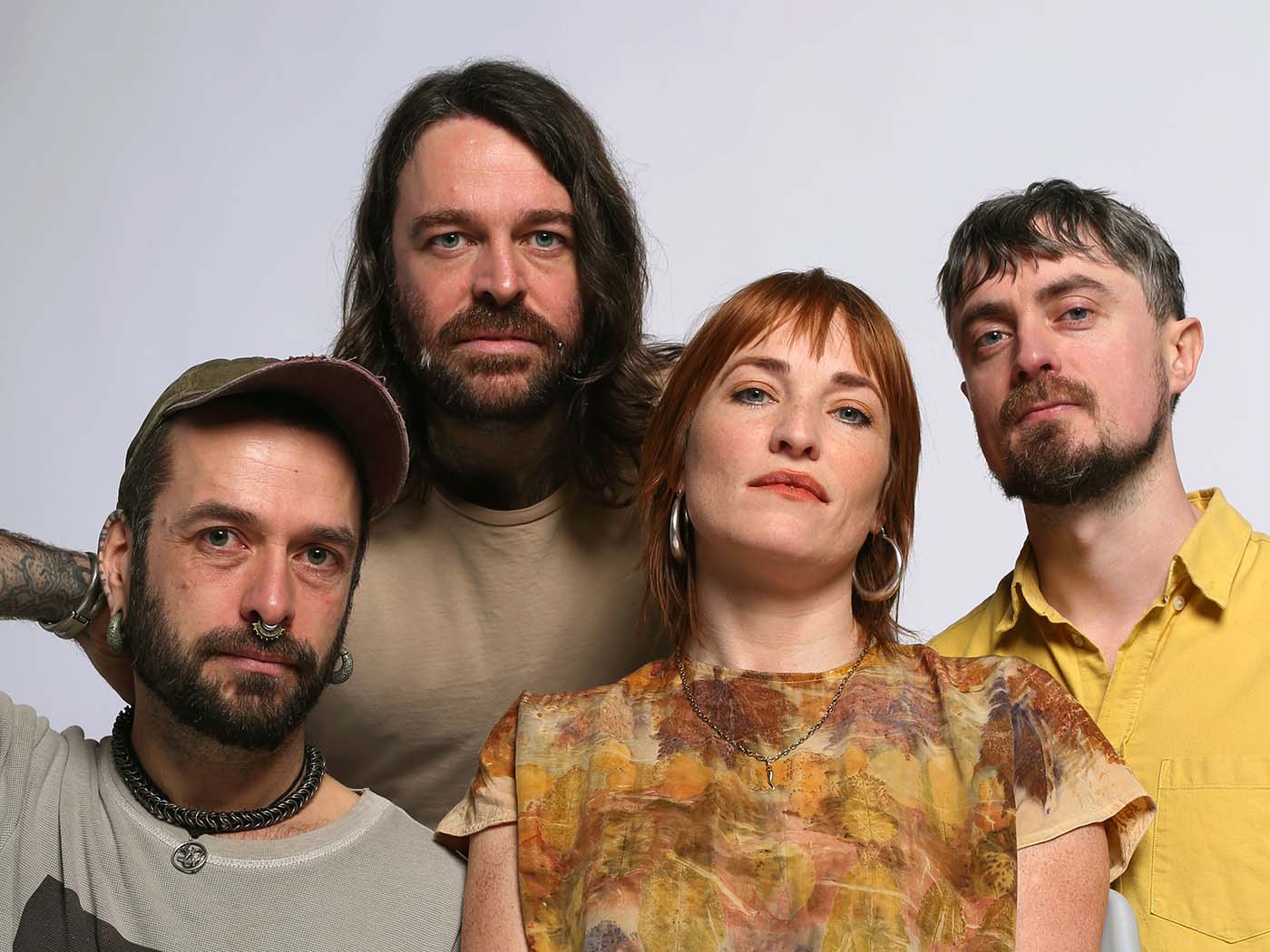 Lankum @ Vicar Street
First of three shows from the modern Irish trad band.
Hot 8 Brass Band @ The Academy
New Orleans-based brass band that blends hip-hop, jazz and funk styles with traditional New Orleans brass sounds
Oddisee & Good Compny @ The Grand Social
American rapper. 'That's Love'
Myles Manley @ Little Whelan's
Three Mondays residency from the Irish alt-songwriter. 'My Gentleness'
Unstuck, Slightly Dishevelled, Peer Pleasure, Stratford Rise @ Fibber Magee's
4 live bands, night by Sky Rocket promotions.
---
Skip to day: Tues | Wed | Thurs | Fri | Sat | Sun | Mon