The Scratch have announced a new album Mind Yourself, along with a new single 'Trom II (A Slip In The Wind)'.
The Dublin trad-folk-metal band The Scratch have announced the release of their second album Mind Yourself, due November 3rd on Sony Music Ireland. Artwork and tracklisting is below, along with full tour dates.
The record was produced by James Vincent McMorrow, and is preceded by the first single 'Trom II (A Slip In The Wind)', a song which builds slowly over its six-minute and a half running time, adjourning the band's established energetic high tempos until its crescendo.
"Myself, Jordo (guitar, lead vocals) and James McMorrow came back from the pub one night and started playing. It was one of those moments where somebody kicked things off and everyone fell into a groove behind it, we all just sat in it, enjoying a symbiotic moment together. Trom II is a cool song for us because we've never been in a live-in studio situation where everything's set up and ready to go. Working with the two James' (James Vincent McMorrow, Producer, and James Eager, Engineer), introduces a new element to our music. There has never been room for a song like this before with us – when it comes to The Scratch, it's a bit leftfield which makes it exciting, plus it feels like the right tune to introduce listeners to the many twists and turns this album takes."

Daniel Lang (cajón, percussion, lead vocals)
A video premieres this evening at 7pm for the song: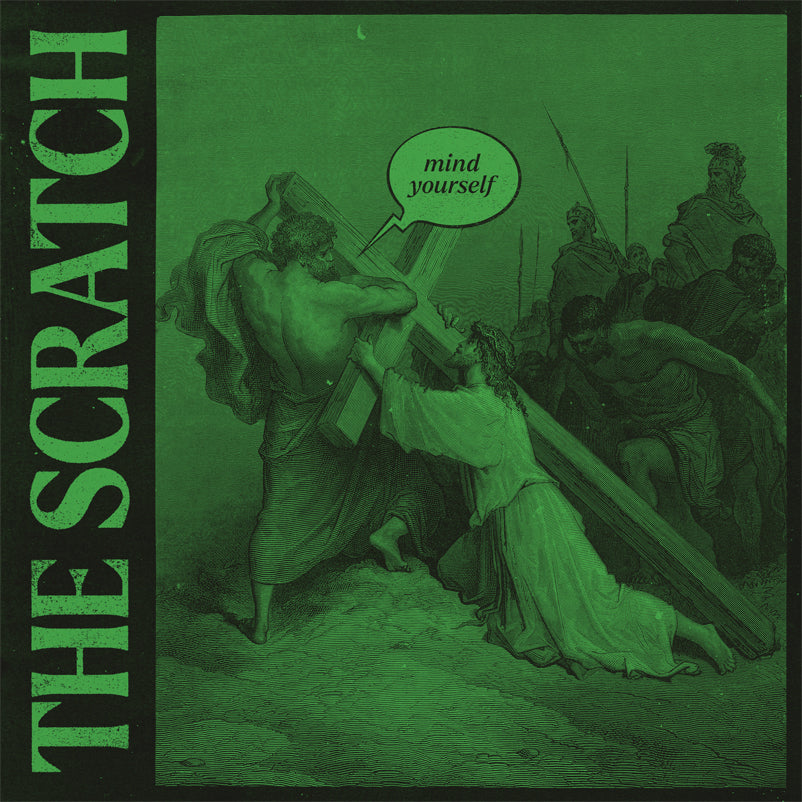 Mind Yourself – Tracklist
Banshee
Cheeky Bastard
Hole In The Ground
Trom I (The Harrowing Sun)
Shoes
Blaggard
Trom II (A Slip In The Wind)
Cold Eye
Pocket Full Of Roses
Mind Yourself will be available on limited edition etched coloured vinyl, standard black vinyl, CD and digital.
The Scratch Tour Dates
This summer the band have been busy supporting Boston-Irish legends Dropkick Murphys, and have announced more live dates, as per below, including:
October 26 – Limelight, Belfast
October 29 – Opera House, Cork
Nov 1 – Dolan's, Limerick
Nov 8 – Vicar Street, Dublin
Dec 22 – Set Theatre, Kilkenny
Dec 29 – Crescent Concert Hall, Drogheda

They have also announced EU dates in Netherlands, Germany, Poland, Czech Republic, France, Austria and UK dates.

 Pre-sale tickets to the tour will be available from Thursday 24th August, followed by general sale on Friday 25th August.
Follow The Scratch
Website / Instagram / TikTok / Twitter / Facebook