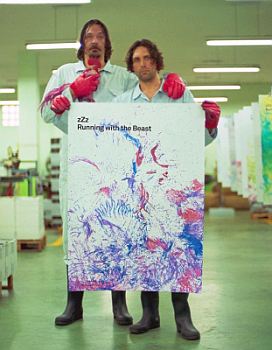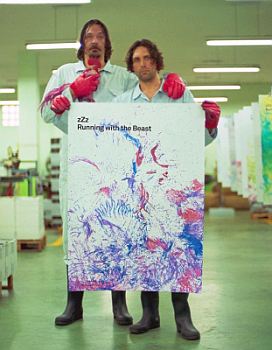 Occasionally Barry Healy pops up to recommend three albums that may be under your radar. Here are his latest selections.
zZz – Running with the Beast
Don't let the listless and somnambulist name put you off, in fact Dutch duo zZz are a rather surprising bundle of intrigue and inventiveness. Their music consists solely of an organ, drums and vocals which fuse together creating a feet tapping, dirty and enthralling tunes which often spiral into shear madness. The album itself basically divides itself in two with a rather uncanny mixture of tunes lead by pumped and energetic drumming accompanied by equally frantic organs or tunes centred on meandering swirling organ synths. There is something broadly familiar to this sound which is perhaps down to the dark and doom-laden almost Joy Division-esque vocals. It's a rather underrated and impressive album none the less, fully deserving of some of your attention.
Jamie T – Kings & Queens
You could have been forgiven for thinking Wimbledon's biggest export since the Crazy Gang wouldn't be able to live up to the potential shown on his debut as many luminaries such as The Streets have fallen pretty dramatically at this juncture. He has returned however with a rumbustious rattle through London life, combing his distinctive mix of punk, folk and streetwise hip-hop with insightful flowing and often humorous lyrics, complemented perfectly by rich melodies. The album has plenty of signs of maturity on show with songs of lyrical depth and touching emotion, yet there is still an abundance of youthful lairiness and rebellion on show too. This record is one of the most complete of the year and it thankfully places him firmly away from the flash in the pan variety.
Vitalic – Flashmob
The man who restored my faith in electronic music in 2005 has returned, so how does the second coming of the messiah fair out? There is a real air of familiarity to this one yet it doesn't really resemble anything that has gone before all that much, including his previous record. It fits nicely into the Gallic electro genre and is pretty damn easy to throw yourself into this one, which isn't always an easy thing to achieve. There is a real sense of fluidity too, a real triumph considering the varied mixture of tracks, from the chilled 'Alain Delo' to the thumping 'Terminateur Benelux', showcasing Vitalic's true creative genius in creating masterful electro catered to many tastes. It's a great record throughout, whether or not it will push electronic music forward into new boundaries like many would expect is unclear at present. One thing is clear whether you're a fan already or a new convert, this one is sure keep people dancing for some time to come and it's a must have for electro fans.
Related