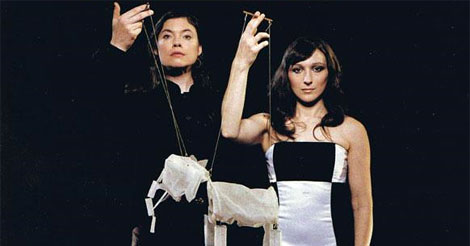 In an effort to shine a light on the unknown artists and songs that pass through the mailbox of a music blogger, this hopefully regular series will pick the MP3s most deserved of attention from nialler9 readers. Hey.. that's you guys!
I Scream Ice Cream – Trust Tissue
I hate it when people combine the word electro and rock together. Instantly, I get images of fashionable rockers playing with Korgs, heavily distorted guitars, wailing and painfully shit music. Kinda like Queen Kong that one time I saw them. But "electro-rock" is what this is and this Copenhagen band do it rather well. No distortion included. [Myspace]
Anti Atlas – Spring
Apparently, Radiohead's ex-manager Chris Hufford was involved. So was our Gemma (see?). But not on this track. This track's vocal is supplied by yer wan from Asobi Seksu and it's a rather nice ambient song which sounds like it's borrowing a guitar line from Animal Collective. [Myspace]
My Brightest Diamond – The Diamond
Shara Worden's latest album A Thousand Shark's Teeth is out this week and this is a sample from it. Heavy and cinematic with elegiac harps and strings rising below her lounging, restrained cabaret voice. (That's her above with a puppeteer from URB magazine) [Myspace]
Lil Wayne – A Mili (Dubbel Dutch remix)
A dubby, techy remix of Lil Wayne. Speaking of Wayne, what's the big appeal of his albums? I like his collabs but Carter III on first listen has some piss-poor music*. If ya can't get that right….. [Myspace]
Bullion – Rude Effort
From Acton, London, Bullion was the dude who did that Pet Sounds/J Dilla mix album a while back. This tune is from his 7″ and sounds a little like Eliot Lipp. [Myspace]
Drop the Lime – I Love NY
Let's face it. Drop the Lime's tunes all sound the same after a while. A sample here – distorted and messed with. Beats at at least 130bpm. And loads of rumbling bass. It's suitable for a party, just not for visiting your granny on the weekend. [Myspace]
The Notwist – Sleep (Odd Nosdam Remix)
An album track from The Devil, You + Me is given the remix treatment here by Anticon dude Odd Nosdam. [Myspace]
Lionhead – The Nigerian Police Force
Bigga Bush used to be Rockers Hi-Fi and now runs the Lionhead Records label which specialises in funk, afrobeat and dub vinyl releases. If you dig the recent Nigeria Special compilations, you'll dig this. [Lionhead site]

* This may not be true. As a music blogger, I reserve my right to change my fucking mind anytime I want, thank you very much.