Welcome to the spiritual rhinestone home of American country music – Nashville, Tennessee. Largely responsible for the renaissance of country music in the the late 1950s and its transformation into the popular commodity it is today through the assimilation of modern pop productions, the city has bred the likes of Tammy Wynette, producer Chet Atkins, celebrated session musicians The Nashville A-Team (who recorded with Elvis amongst others), Patsy Cline, Merle Haggard, Waylon Jennings, Loretta Lynn and many more. The city attracted many others to make it their home: Willie Nelson, Dolly Parton, Johnny Cash, Jimi Hendrix and Emmylou Harris. Nashville also served or serves as a hometown for Miley Cyrus, Kings Of Leon, Jack White's Third Man Records and um… Ke$ha but let's not hold that against it.
Nashville has a more hallowed and mainstream history than nearby Memphis which is known for blues, rock 'n' roll, the soul music of Stax Records, Isaac Hayes, B.B King and, most recently, crunk thanks to the likes of Three 6 Mafia and Lil Jon. For more on Memphis, see the Memphis guest post series by Don Naro.
Downtown Nashville is compact. The main street, Broadway, is lined with honky-tonk country music bars like Tootsies and The Stage, all of them filled with bands playing country-tinged covers most nights. In-between there are stores for getting your leather boots and cowboy hats, restaurants, neon signs, music instrument shops with guitars with price tags in their thousands and a record store called Ernest Tubbs which first opened in 1947. Not far away fans flock to the Bridgestone Arena to cheer on their local hockey team, the Nashville Predators. The Arena also hosts the CMA Awards, the national country music awards every November and large-scale concerts from acts like Taylor Swift and The Avett Brothers.
About 70 miles south of downtown Nashville is the true spirit(ual) home of whiskey in the United States. The home of Jack Daniel's Tennessee Whiskey, Lynchburg is nearly a 90-minute drive but it's a scenic one featuring wooden houses seemingly arbitrarily placed in fields, lots of porch rocking chairs, a town called Shelbyville, undulating hills and Warren's auto shop where Warren offers a free bible with every sale, as if you needed to be reminded you're in the South.
Lynchburg town itself (population of around 5,000) orbits around the Jack Daniel's Distillery. There's a Jack Daniel's credit union, a quaint and dusty town square and an old wooden white boarding house called Mary Bobos where for 100 years, the proprietors have been taking on lodgers, offering Southern family food (fried chicken, fried okra, macaroni) which is served while a hostess regales the hungry guests with a potted history of the town. Many of the locals work in the distillery and there's a real genuine sense of community about the place.
Jack Daniel himself was a bit of a special character. They say he was just 16 years of age when he took over the still around 1866. However, birth records were destroyed in a courthouse fire so no one is entirely sure of the exact date of his birth. So Jack Daniel's decided to celebrate it for a whole month which brings me to the reason I was in Tennessee – for the Jack Daniel's Birthday Party gig featuring Plan B, Emily and Theresa from Warpaint and K.Flay in a fancy wooden barn on BBQ Hill on the high grounds of the distillery overlooking Lynchburg (obviously JD paid for the trip).
Jack Daniel was so fond of music, he spent $300 for instruments for 13 musicians who were to become the Silver Cornet Band in 1892. That tradition forms the basis of this modern day-gig. The New Silver Cornet Band were the houe band for the headline performers. The seasoned band members included Jon Tiven who produced Alex Chilton and Frank Black albums, one of Bob Dylan's first drummers Craig Krampf and for the first time, Steve Cropper who was also celebrating his 70th birthday on the night of the gig. Cropper has a significant CV – he was in Stax Records' house band, played with Booker T. & the M.G's (Green Onions), starred in The Blues Brothers, he co-wrote 'Knock On Wood' with Eddie Floyd, 'Midnight Hour' with Wilson Pickett and 'Sitting On The Dock Of The Bay' with Otis Redding. Bit of a legend then.
"I Had Plan B on the tour yesterday. I asked them what plan A was…"
Goose – Jack Daniel's tour guide for 31 years.
Ben Drew aka Plan B for one wasn't daunted by Cropper's back catalogue as he explained with his usual cocksure manner earlier that day. "You have to have a certain amount of ego to do this job, to get on that stage and when you meet someone you respect you want them to like you and your stuff. Steve and the band have just been really nice and respectful. I can smell a bullshitter and I don't think they're bullshitting me."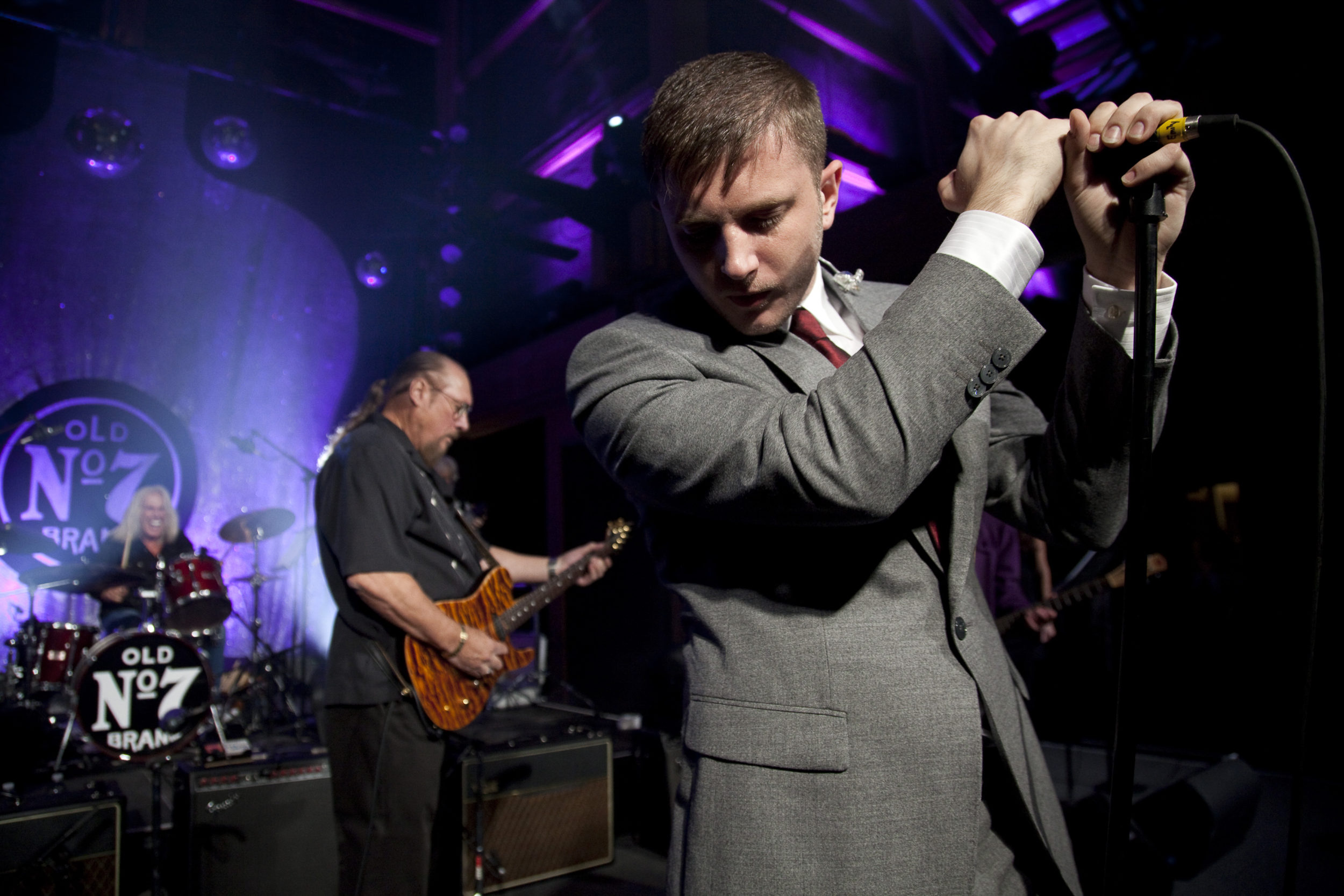 With a hip-hop album in the works called The Ballad of Belmarsh Drew talked about how he would love to tackle reggae and punk albums in the future. "My band are like a punk band playing soul music," he said. "We don't give a fuck." He certainly looked like he wasn't giving a fuck when he joined Cropper and co. to belt out some old-fashioned Stax-style covers of 'Knock On Wood', 'Soul Man' and renditions of some Defamation Of Strickland Banks material. Occasionally, it was hard to tell if he was overwhelmed by the material or just a bit lost on the covers, but the blend of his soulful voice with an aged band and powerful backing singers added definition to Plan B's songs and highlighted just how indebted his soul reinvention is to that classical Stax sound.
One thing you should know about Lynchburg is that it's situated in Moore County which is a dry county (Another thing you should know about Lynchburg is that Little Richard lives there). The residents of the town I talked to were pretty proud of that quirky fact. When prohibition was repealed the town never bothered holding the referendum to change it and the law stands. Of course, having the biggest whiskey-making distillery in the world is just part of that quirk. Jack Daniel's head taster and genuine American former quarterback Jeff Norman (above) joked that the nearest bar was "12 miles, 300 yards and 14 steps".
"Every member of the New Silver Cornet Band is a legend and a pro and really kind and open, which is what I'd expect from Nashville. No snobbery, just getting involved and having fun," said Warpaint's Emily Kokal who was joined by her band-mate Theresa Wayman to play with the band in Tennessee. The west coast gals, away from their Warpaint band mates looked to be having the best fun on the night. Their covers of Dolly Parton's 'Jolene', The Shirelles/The Mamas and Papas' 'Dedicated To The One I Love' and Aretha Franklin's 'Do Right Woman' were the most complete arrangements with both singers playing guitar and swapping soaring lead vocals over five songs. It was interesting also to hear the new tones that the seasoned band brought to the three Warpaint songs played, 'Undertow', 'Elephant' and 'Burgundy', included some saxophone that brought an old-school flavour to the originals. There's even a little shimmying from Emily during 'Dedicated..':
More footage of all the bands at JD's Facebook.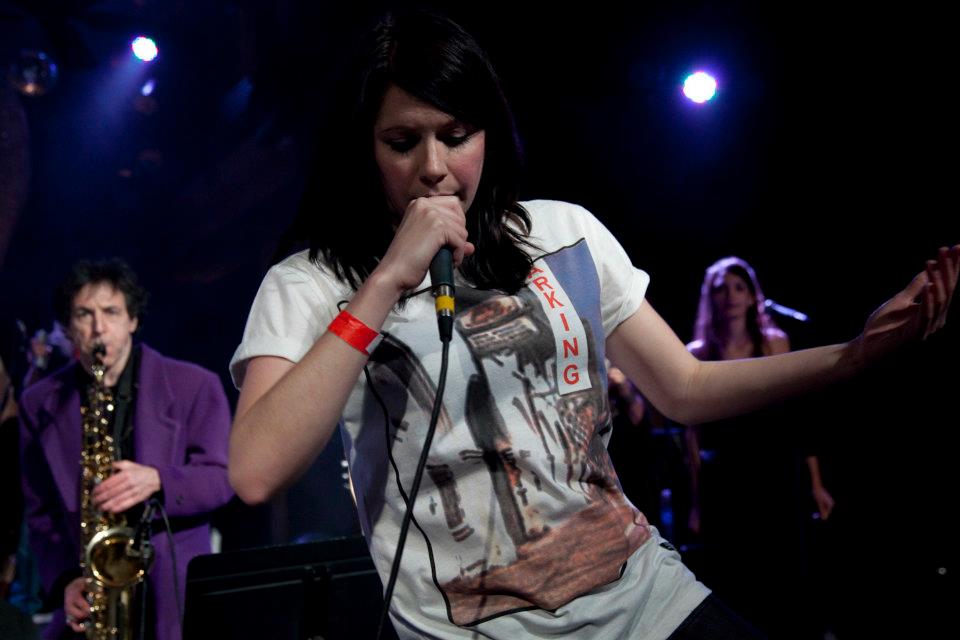 Of all of the performers, Bay Area electronic and hip-hop rapper and producer K.Flay had to bridge the largest gap between cutting-edge and the traditional soul and blues backing band. As Kristen Flaherty points out herself, hip-hop has a lot of roots in blues music so it wasn't too much of a stretch but the combination of live band and rap, particularly when the blues swamp organ is employed brings out those common elements. Flaherty's voice is a big asset taking in a breathless flow to squeaky inflections. Her five-song set sounds like Blakroc fronted by a female rapper with a sampler (no bad thing), for the Gil-Scott Heron handclap of 'Doctor Don't Know' there's a funk-soul sax vibe but her covers of choice, The Zombies' 'Time Of The Season' and 'Chattanooga Choo Choo' don't quite leave as strong as an impression as the originals which will turn up on a Liam Howlett-produced EP in the next month or so.
The gig ends with Steve Cropper taking the lead on 'Midnight Hour' and 'Sitting On The Dock Of The Bay' which ends in a crowd singalong and whistle chorus before Plan B and Warpaint join him for the finale of Eddie Floyd's 'Big Bird'. The buses depart back into the night towards downtown Nashville for more singalong in the bars of Broadway.
After experiencing all that storied and legendary music, there was one less-than-classic local song I heard in a taxi that may come to define my brief time in Tennessee. It's a little bit of country with a hip-hop twist from local "country-rap king" Mikel Knight and it's one of the worst things you'll ever hear. Saddle Up Shawty…