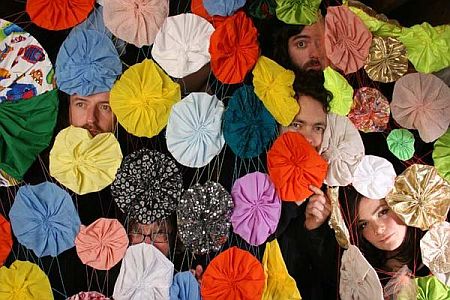 It's nice to come back home every now and again to visit the parents, say hello, meet people you haven't seen in a while, reaffirm how integral friends and family are to your life. You know..usual stuff. Music is as important to my life as all of these things (hence the blog). It's been a fairly relaxing weekend at this end and the soundtrack largely has been Tunng.
Tuung are from London which is evident from singer Mike Lindsay's accent. There's no getting around it, their sound is very close to The Books due to their analogous usage of spoken word samples. Tunng's lyrics give the songs an extra weight as many of the songs deal with extraordinary happenings (girls turning into hares for example) and the music on the latest album Comments on the Inner Chorus sounds like it came from an enchanted forest – plucked, layered guitar and dabbles of eerie electronica.
"Woodcat" contains the aforemented girl turning into a hare lyrics – And they left your brown body gentle and shivering / Back in the clearing with the deer in the evening. Like the chorus says we're in for a lovely time. "Jenny Again" is a gentle lilting song about a murder which goes from dark – Throw the knife into the stream / Run away across the fields / Leave me lying where I fell / Rivers running out of me to seemingly cute but actually dark – Push the children on the swings / Think about me now and then. It's a fascinating song that just creeps up on you. Video here.
The band also did an imaginative re-working of Bloc Party's "Pioneers" earlier this year. It's excellent. Listen to the songs mentioned below.
Tunng are playing a European tour throughout October and November taking in the Spiegel Tent in Belfast November 3rd and Whelans Dublin the next night.
[Myspace | Official Site ]
MP3s
Related