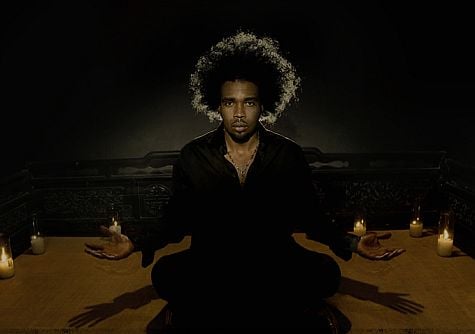 ..Pharoahe f**kin Monch ain't a damn thing changed. – Simon Says, 1999
An eight year wait for a second album usually never works in your favour. It can render fans disinterested or makes the artist irrelevant in today's musical climes (especially in the blink and you'll miss them world of hip hop). Not Pharoahe Monche though. Anticipation for Desire has been simmering throughout the 8 long years of legal wrangling and label politics. I'm sure somewhere in the world every night a DJ dropped his Godzilla samplin' hit "Simon Says" to a raucous crowd. Monche himself kept busy ghostwriting for P Diddy, rhymin over a J Dilla track amongst other appearances, remixing but ultimately, listening to Desire, you can tell Monche matured and learned about life.
The album is littered with soul samples and Pharoahe channels his ideas on life, marriage, gun violence and freedom with a healthy dose of braggadocia. It's Monch's dense lyricism that stands out as ever. On menacing standout track "What it Is" Monch belittles emcees with stark expression – "With a flow that's so influential / N****z fucked up they get no instrumentals now / Next time you be spittin' on mine / Bet your bottom dollar you'll be spitting over rhymes".
No doubt the freedom Monch feels informs his creativity on the album and "Body Baby" is the prime example a soulful swinging Black Elvis romp that Andre 3000 would be proud to own. Even a cover of Public Enemy's "Welcome to the Terrordome" is a brave choice which he pulls off despite sounding too close to Chuck D for my liking. His strong social conscience sees Monch imagining himself as a bullet in "Gun Draws" (which has an accompanying video and website) while older track "Agent Orange" is underpinned with noodled electronics and serves as his war protest song – "I threw a rock, then I ran".
Where the album is letdown slightly is the dip in tempo towards the end of the album where the subject matter relates to love and marriage. "Hold On" featuring Erykah Badu and "So Good" are beautiful but are the kind of songs you'd expect on a Common album however. The nine and a half minute "Trilogy" is a three part revenge narrative which on the surface seems to be about infidelity but it has been suggested is an allegory alluding to record industry woes or his relationship with hip hop.
These are small qualms on a deliciously relevant hip hop album that shows despite the 8 year career break, Monch is still able to paint his canvas with intelligent brushstrokes, expanding his craft and his audience without losing any of the poise that kept people waiting all these years. Pharoahe is playing Tripod, Dublin on the 19th July with a full live band – tickets priced €27.50 with support from Jeru the Damaja. I suggest you get experienced.
Related