So Hard Working Class Heroes is happening from Thursday to Saturday and 100 Irish bands are playing live in seven different venues at night and some other shops, cafés and restaurants during the day to local music enthusiasts and an international audience of industry people. As a reader of this site, you'll already know lots of bands to check out (the entire music industry will be at Hozier for example, while I Have A Tribe, Sleep Thieves, Come On Live Long, Daithí, Ships, Lasertom, Liza Flume and Tieranniesaur are good bets).
So I thought it'd be fun (yes, this counts as one of my definitions of fun) to write about 12 bands playing the festival I've never featured before. So I trawled through the entire list of bands, including the 70 first-timers and this is what I came up with. Also, I'll be DJing the afterparty at Meeting House Square on Saturday about half past midnight FYI.
---
Thursday – 8pm @ Button Factory
A Dublin trio who clearly have a love of things disco, funk, house and electro. Their songs are similar to the cinematic disco of the Chromatics, are indebted to nu-disco and funk and with influences as dance-entrenched as Carl Craig, Christophe, Daniel Wang, Jimmy Edgar and in Flagranti, are pitching themselves a little differently than most.
---
Thursday – 10pm @ Twisted Pepper
While one member of EatenByBears went off to start The Bedroom, the other three delved into a palette of self-described "dark, synth based electronics and upbeat pop harmonies" which based on the songs online involves falsetto vocal, wonky electronic tones and Hud Mo-style trap beats.
---
3. Inni-K (Kildare)
Friday – 8pm @ Bad Bobs / Friday – 1pm @ Dux & co.
Somehow, I haven't featured Inni-K here before even though I like her music. I first came across her as she performed at Other Voices in Dingle a couple of years ago. She was then based in Dingle and her melodic folk-pop which utilises ukelele, fiddle, piano and a loop pedal made an impression. Since then, she's been playing lots of shows where she plays in your house if you ask.
---
Friday – 8pm @ Button Factory
Anthemic intricate indie music that sounds able for bigger stages. The four-piece band (no personnel given) have been creating their debut album with Karl Odlum. 'Ballymore', is the kind of stop-you-in-your-tracks song that will make you add this band to your list immediately.
They say:
"This is the last track we recorded for our album . A beautiful song written by Anothers Blood – a band who are sadly no longer together. A friend sent a live version of the song to us thinking we might like it, we thought it'd make a great addition to our forthcoming album and were delighted that Richard Frenneaux from Another's Blood gave us his blessing when we asked could we record our own version of the song."
---
Friday – Midnight @ Meeting House Square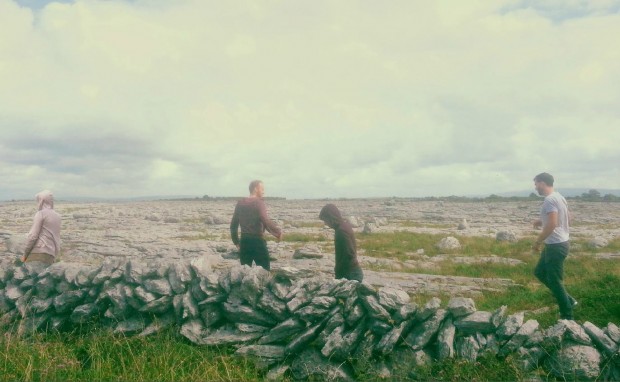 The Young Folk are four lads who make traditional folk music, which at times sounds not a million miles from Mumford due to the use of the mandolin but generally, this is a modern take on an old sound. Listen to their debut album The Little Battle.
---
Friday – 8:40pm @ Twisted Pepper
A Dublin producer who only started this year, Kobina claims his music aims to blur lines "between 2-step, R&B and beat music" and that's certainly the realm we're in with his tracks, which have a more laidback feel than a dancefloor one at this point. Electronic garage touches and chopped and screwed vocal samples complete the look.
---