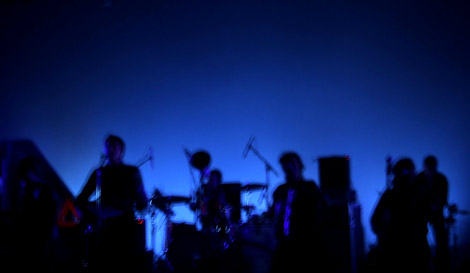 It was fitting that it was on a cold, wet and blustery Dublin night that the Arcade Fire came to town. Here to promote Neon Bible, a record soaked in references to bodies of water (oceans, seas, wells) and adorned with sounds of tumultuous winds and ominous thunder, the night was a comforting reassurance that it was probably meant to be this way.
We took refuge from the weather in the Olympia Theatre last night. A real sense of expectation could be felt – tickets were hard to come by and as far as I'm aware no further tickets were reclaimed from touts (who were out in force – "Canadian Superstars! – One Night Only") as in previous cities.
Support Patrick Wolf was a mere sideshow to the main event – an act to stave off the boredom of the two hour wait, as he pranced around the stage flamboyantly – all style no substance. A poor man's Adam Ant dressed in garb that placed him as a camp English schoolboy complete with shorts, bright red hair and glitter. If Peter from Narnia had grown up in modern times perhaps Patrick Wolf would be his alter-ego. Regardless of his preppy look, every song reminded me strongly of some song I'd heard before. In fact so blatant was the lifting of melodies, that Amy my cohort for the evening managed to pinpoint exact melodies from other songs that we could hear taking in REM, The Cure amongst others. No matter though, It was better than staring at an empty stage.
While we were waiting I met the quintessential Arcade Fire fan – Eyebrowy style. The guy was clearly a bit pissed but he first asked me bizarrely – "Do you like the Arcade Fire?" only to elaborate how he's seen them 5 times and was at their first gig in the Sub-Zero (!?) club in Canada. He then repeated this as if he was trying to make it true or with the hope that somebody would latch onto him. The only thing he was missing was a "I SAW THE ARCADE FIRE BEFORE YOU" t-shirt.


My previous visits to the Olympia gave me the impression that the music had to be finished by 11, but it was close to 10 before the troupe of 10 Arcade Fire members took the stage. Starting with "Keep the Car Running" and "Black Mirror" I felt the sound was bad, I couldn't hear Win's vocals but the renditions of "No Cars Go" and "Haiti" made me forget my woes. During "Haiti" and throughout the rest of the night, Régine was pleasantly theatrical in her movements (Patrick Wolf take note!) and growled the backing vocals at the front row – baring her teeth before smiling from ear to ear. I was delighted to hear "Black Wave / Bad Vibrations" get an airing (see below) but "My Body is a Cage" was a revelation. Win went stage left to play the organ and the song sounded monstrous, the lyrics seemed to me to be quite poignant and suited the live context – "I'm standing on the stage / Of fear and self-doubt / It's a hollow play / But they'll clap anyway".
Black Wave / Bad Vibrations Live

The band swap instruments and positions quite a lot, a testament to their talent, but also the intensity in their performances are second to none. They don't employ the usage of megaphones for nothing you know, as Arcade Fire songs are built on passionate shouts and refrains and the band use the megaphones as an outlet for the joy in being on the stage, playing these songs. At one point, we watched Win's brother William trash about on the floor with one only to jerk up and shout into it some more. He clearly couldn't contain himself later on during "Power Out" when he climbed onto the Olympia boxes and up to the Circle seating area above us all the while banging his drum.
"Tunnels" got a massive reaction and as it was quickly followed by 3 other songs from Funeral ("Crown of Love", "Power Out", "Rebellion (Lies)" ) the crowd went pretty wild. We were treated to three encores all of which were accepted by the band in a humble state. A thrilling shoutalong version of "Wake Up" deafened the theatre with the crowd singing ahead of the band at the start.
Wake Up Live

"(Antichrist Television Blues)" is as Springsteen as they come, and strangely enough, Fluxblog recently suggested it was about Jessica Simpson's father, religious but corrupted patriarch of a showbiz kid. "Oh God, would you send me a child? / 'Cause I wanna put it up on the TV screen /so the world can see what your true word means."
A final encore in the form of "Neon Bible" some would call anti-climatic but it was a fitting end – the band clearly giving all they had to give. Win is a endearing frontman – workman-like but he has a wide eye and a smile that suggests he's only just understanding what his band mean in popular music at the present time. As for the overall performance, it was pretty special. The new songs from Neon Bible have an intensity to them which is lacking on Funeral. Where Funeral relies on crescendos and focuses on neighbourhoods, Neon Bible relies on sonics and impending global doom.
As we left the theatre, we felt sated by witnessing such a powerful performance and safe in the knowledge that on this particular night in Dublin, the rain wouldn't bother us at all.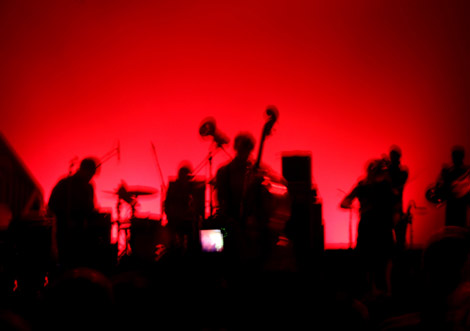 Set List
Keep the Car Running
Black Mirror
No Cars Go
Haiti
Black Wave/Black Vibrations
My Body is a Cage
The Well and the Lighthouse
Ocean of Noise
Tunnels
Crown of Love
Power Out
Rebellion (Lies)
Intervention
Wake Up
(Antichrist Television Blues)
Neon Bible
MP3
Arcade Fire – Black Mirror
[audio:https://nialler9.com/mp3/Arcade_Fire_-_Black_Mirror.mp3]
Photos:
My Flickr
Miss Lili's got loooooads of close-ups! (despite only being there for 2 songs)
Calexdeus' Flickr