The leading electronic festival on the island, AVA Festival has announced its return on September 24th and 25th this year in Boucher Road Fields in Belfast.
AVA's return will likely be one of the first big festival experiences that many can attend after a year and a while of no gigs or festivals.
The lineup is grounded by local talent like Or:la, Hammer, Sunil Sharpe, Tommy Holohan, Cailin, Jordan Nocturne, Saoirse, R Kitt and more with international guests like FJAAK, Helena Hauff, Kink, Optimo, and Jayda G on the bill while a new strand of Irish rap, hip-hop and R&B is represented in acts like Kojaque, Gemma Dunleavy, Aby Coulibaly, Dena Dena Anuk$a, Leo Miyagee. As ever, AVA which stands for Audio Visual Arts is platforming the visual artists with Algorithm, Visual Spectrum and Kevin Gartland on board.
AVA Lineup in full
FJAAK (DJ)
Helena Hauff
Kink (Live)
Jayda G
Or:la
Optimo
Carista
Hammer
Ki/Ki
Kojaque
Gemma Dunleavy
Aby Coulibaly
Sunil Sharpe
Saoirse
Sally C B2B Cromby
Tommy Holohan
Space Dimension Controller
Kaidi Tatham
Phil Kieran
Timmy Stewart + Jmx
R Kitt
Jordan Nocturne
Bobby Analog
Myler
Holly Lester
Carlton Doom
Cailin
Mark Blair
Twitch
Mount Palomar (Live)
Kessler
Swoose
Marion Hawkes
Bloom
Inside Moves
Kwame Daniels
Sputnik One
Schmutz
Emby
Leo Miyagee
Daire
Percboi 3000 (Live)
High Hoops
Korova
Plain Sailing
Nez
Cartin
Blark
Crock
Cyence
Moodtrax
Dallas
Dart
Dj Farhannah
Imnotyourmate
Brien
Dena Anuk$a
Crilli /
Nikki O
Aeronxtc B2B Taint
Visual Artists: Algorithm / Visual Spectrum / Kevin Gartland
More To Be Announced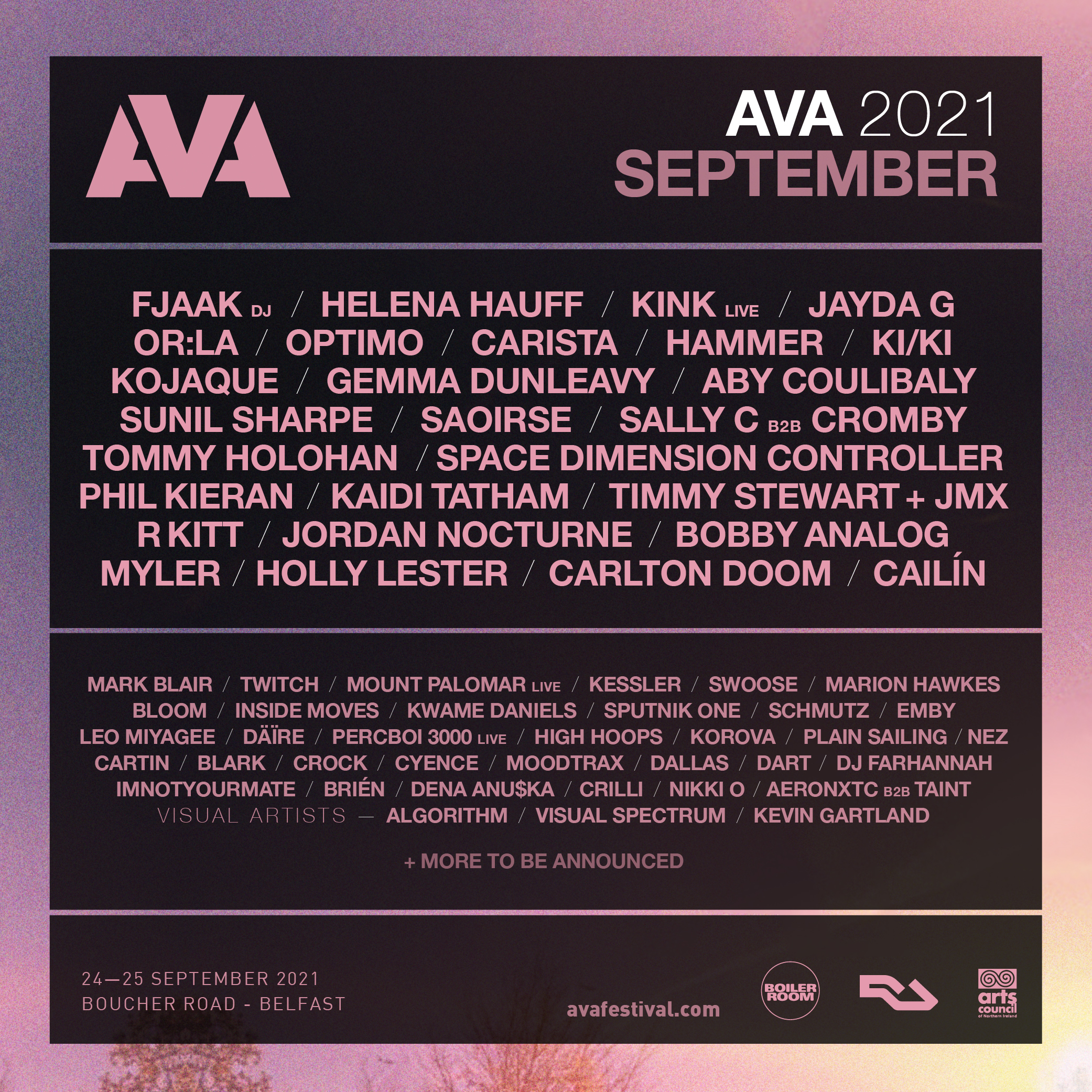 AVA will take place on a multi-stage open air site with art installations and music/art/culture, chill spaces, local food traders, cocktail bars and more. Closing parties and afterparties are also due to be announced.
Full festival weekend passes can be bought online at £85, or day tickets at £45. Tickets to AVA Festival are on sale via https://avafestival.com/festival.
"We are thrilled to announce our return to Belfast at the end of September after one of the most challenging years the industry and society has ever faced. Not only will this be one of the first festivals returning after a pandemic, but this will also be the beginning of our new fully outdoor chapter. The blank canvas at Boucher Road Playing Fields offers us exciting and endless opportunities. We have been working on the new site design for some time, combining our signature industrial design with the natural landscape, showcasing the artists in the best way and making this year's AVA experience unique. The dark evenings in September will also lend itself to our new AV shows planned. We are proud & excited to bring back AVA to one of the best crowds in the world"

Festival Director & Founder, Sarah McBriar