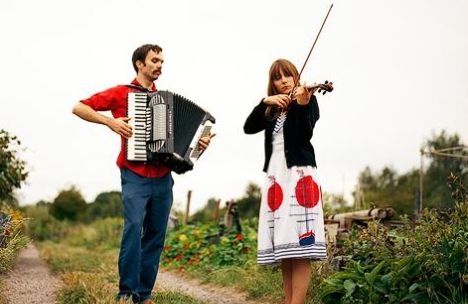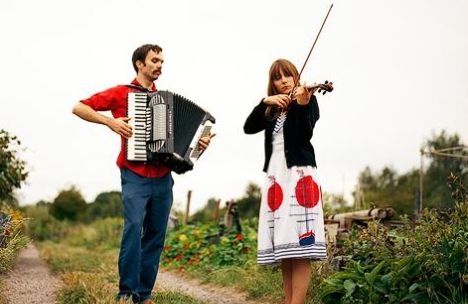 So you dig a bit of Beirut and you'd like to hear more Eastern Folk Gypsy music. One option is going straight to the source, Taraf de Haidouks (frantic Romanian folk troupe) , Kocani Orkestar (Balkan Brass Band, song used in "Borat: The Movie") or the Electric Gypsyland compilations where Western artists such as Animal Collective, Tunng and Cibelle remix these Balkan groups. Also recommended is the soundtrack to 2005's Everything is Illuminated by Paul Cantelon and friends.
Another option is to explore the work of Jeremy Barnes and Heather Trost otherwise known as A Hawk and A Hacksaw who, as well as being heavily influenced by the above artists, have just released an EP recorded with The Hun Hangár Ensemble from Budapest. Like the Electric Gyspyland compilations it's a meeting of Western Europe/US with Eastern European and it sounds wonderful. I missed their performance with Beirut in the Olympia last year which is unfortunate as their last Irish headline gig was cancelled due to lack of interest.
Of the two tasters from the EP here, "Ihabibi" is a percussive delight with horns aplenty (I've just learned the percussive instrument is called a Cimbalom) , while "Zozobra" is the sound of an accordion chasing a violin over the rooftops of Budapest. The EP is 8 tracks long and entitled The Hun Hangár Ensemble EP on Leaf.
MP3s
A Hawk and a Hacksaw – Zozobra
[audio:https://nialler9.com/mp3/AHAAH_-_Zozobra.mp3]
A Hawk and a Hacksaw – Ihabibi
[audio:https://nialler9.com/mp3/AHAAH_-_Ihabibi.mp3]
More MP3s and a video after the jump.

Taraf de Haidouks – The Return of the Magic Horses
[audio:https://nialler9.com/mp3/Taraf_de_Haidouks_-_the_return_of_the magic_horses.mp3]
Kocani Orkestar – Siki Siki Baba
[audio:https://nialler9.com/mp3/Kocani_Orkestar_Siki_siki_baba.mp3]
Paul Cantelon – Odessa Medley (2005, Everything is Illuminated Soundtrack)
[audio:https://nialler9.com/mp3/Paul_Cantelon_-_Odessa Medley.mp3]

Video – Taraf de Haidouks:

[ Myspace | Official Site ]
Order A Hawk And A Hacksaw And The Hun Hangár Ensemble @ Amazon