Slane Irish Whiskey is a trailblazing Irish Spirit that has music in its heritage. Like Nialler9, Slane Irish Whiskey is all about new adventures and making a bold choice. Next time you're looking for a spirit that comes recommended from someone who knows their music, try Slane Irish Whiskey.
Please enjoy Slane Irish Whiskey responsibly/visit drinkaware.ie.
© 2022 Slane Irish Whiskey

---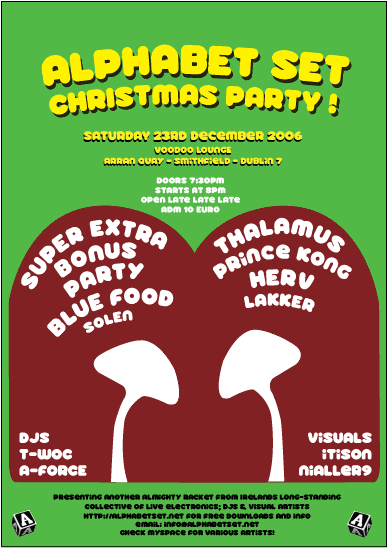 The Alphabet Set Christmas party was banging last night, the Voodoo Lounge was packed and the music was delicious. Big respect to Herv for proving why you voted for him in the top 10 Irish albums poll and everyone else who played. My personal highlight was getting the visuals in-sync for Super Extra Bonus Party's "Favourite Things" Sound of Music cover. Great night! Respect to Mike, Johny Alpha, and T-Woc for organising the thing. I'll put a few photos up soon.
Also, Max Tundra was amazing in Kennedys on Friday. He managed to recreate the oddity and creativity of Mastered by Guy at the Exchange while playing two keyboards and singing simultaneously. His cover of that old rave tune and "So Long, Farewell" (another Sound of Music cover!) was particularly inspired. Also, respect to Ceephax Acid Krew's acid rendition of the "12 days of Christmas". He was havin a laugh up there.
Probably the last post from me this year, so Happy Christmas and all that jazz, looking forward to a music-heavy 2007. 🙂