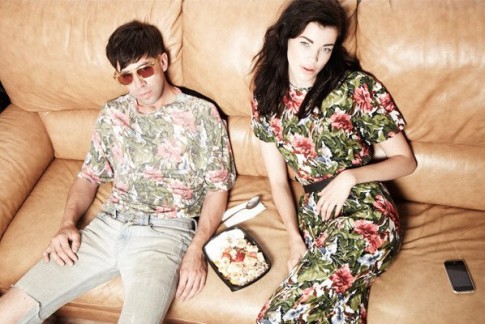 Two years ago, I ran a series of guest posts from people involved in Irish music featuring their top 5 Irish acts at that moment. This time around, I thought I'd shift the focus to international and ask a similar question – "Who are your top 5 new artists of 2011?". Kicking off today and running into next week, musicians, bloggers, record shop owners, journalists, bookers and radio presenters will be answering that question.
Alan Reilly is the man behind the new music Tumblr Bitzl R which takes a look at new worldwide artists. There's always things on there I've never heard of before. Reilly is also a co-editor alongside myself at State.ie. Here are his five essential new artists of 2011: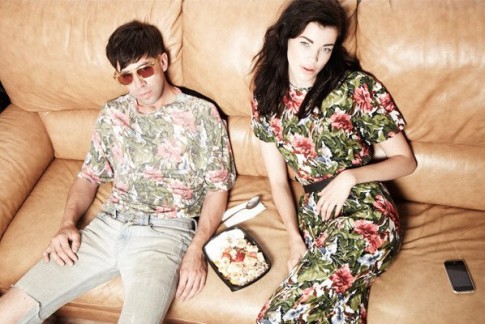 A nuptially bound synth pop pair from Hamilton, Canada, Adam Pavao and Sara Ruba go by the name of New Look. Contrary to their high street namesake, there's nothing cheap and disposable about this couple. They don't follow trends but work with sophisticated stylistics and their debut LP is a pitch perfect testament. Initially unassuming, this is a record that unfolds with time – but not because it is lofty or overly arty. The melodies are such that they breathe and grow, sounding fresh with each listen. And with each listen electronic subtleties surface. Ruba's voice is glassy sharp, layered and laid over Pavao's retro key arpeggios. 'The Ballad' is an earnest digital poem with popping rhythms, 'Nap On The Bow' is infectious with crisp drum pad beats and luring r&b cries and 'Teen Need' is vintage sounding in the key of Janet Jackson (who the pair pay tribute to on a separate track 'Janet', a sweet cover of 'He Doesn't Even Know That I'm Alive'). A timeless classic three years in the making, put simply, New Look (the band) have fashioned the album of the year.
---
2. Daughter

Comparisons are going fly around this lady. Elena Tonra has a voice that chimes with the whiskeyed tones of Chan Marshall (Cat Power), quivers like Niki Rosa Danilova (Zola Jesus) and can belt out like Florence (eh, and The Machine). Her songs are derisive alt-folk ballads of scornful lovelorn tales. "I want you so much, that I hate your guts", Tonra admits on 'Landfill' from His Young Heart EP. The title is a line from 'Candles', seemingly cosy acoustic-folk sang with a syrupy venom. The Wild Youth EP continues on this wrath path. 'Love' questions "did he make your heart beat better than I could?", 'Medicine' attempts to cure with uplifting piano and 'Youth' highlights Elena's age. She's only 21. Elena isn't on her own however, she's accompanied by Igor Haefeli. Production is weightier than your average pastoral folk with reverbed piano, cavernous guitar effects and programmed rhythms. Stripped bare though, Tonra performs with striking artistic versatility. One day soon, Daughter's sound and voice will be a mark of comparison.
---
3. Guerre

In the year that R&B broke indie, soul too had a bit of a facelift. While Michael Kiwanuka kept it old school, channelling the vintage tones of Bill Withers, Jamie Woon pushed forward, lending his vocals to dubstep and bent pop melodies. Meanwhile in Sydney, Australia a young singer-songwriter / electronic –producer by the name of Lauren Lee helped define neo-soul – yes, another stupid journo sub-genre description – essentially doing for soul what How To Dress Well and oOoOO did for R&B: introspective, twisted home productions. Guerre's 'River Hymnal' is a modern serenade and a master class in vocal looping. His Darker My Love EP is a wash of ambient beats, sung whispers and falsetto spikes. What makes it soul are the themes of love, heartache, guilt and desire; "I want to reinvent the future / Start over … / When I'm inside you …" Lee confesses on 'See The Birds'. With his own skewed style Guerre ranks up there with Frank Ocean, James Blake and The Weeknd, this is new soul with a very modern pitch – romantic, fragile and honest.
Looks like that redundant scene chillwave has made a lasting impact – on hip-hop of all things. Mike Volpe started out making beats in his New Jersey attic for artists like Soulja Boy ('All I Need') and Lil B ('Motivation'). After much request, Clams Casino released vocal-free versions of his works via the Instrumental Mixtape, chopping unrecognizable samples with the likes of Adele over distorted beats. His follow up Rainforest EP crafted drum sounds around manipulated vocal samples, fuzzy atmospherics and again skewed hip-hop/r&b melodies. But there's heady drone-pop on tunes like 'Gorilla', so it kind of makes sense that Clams Casino shares the Tri-Angle stable with Holy Other and How To Dress Well for that matter. He most recently collaborated with ASAP Rocky on the equally mellow and hard-hitting 'Wassup' and of course there are remixes, (El-P etc) even making good out of that chillwave-linchpin Washed Out's questionable new material with 'Amor Fati'.
---

If I had to pick a label of the year, it would be Cascine. Having just celebrated their first birthday in September, the Swedish influenced / US based house have created a strong aesthetic of Balearic-tinged dream pop (Southern Shores), languid dance (Chad Valley) and abstract orchestral folk (Wintercoats). One of their earliest residents were Nashville duo Jensen Sportag. The pair make breezy electro-funk club tracks using vintage sounds. Their Pure Wet EP employs '80s synths over '70s Italo-disco grooves with a nuance of Wham-era tropical pop on 'Jareaux'. They lifted Memory Tapes' 'Wait In The Dark' with light slap bass and a solid backbeat and their latest track 'Gentle Man' is smooth new-romantic soul, think Sade singing Hall & Oates. Stick on repeat.