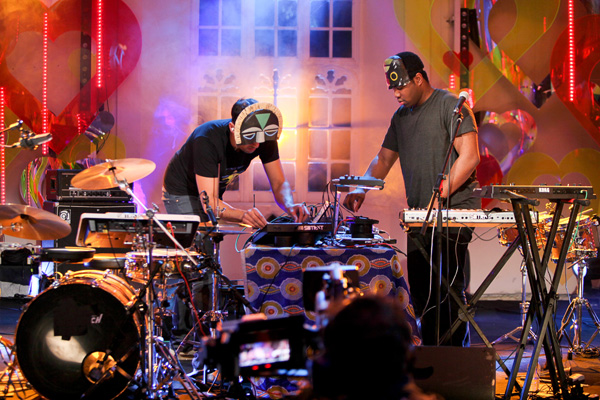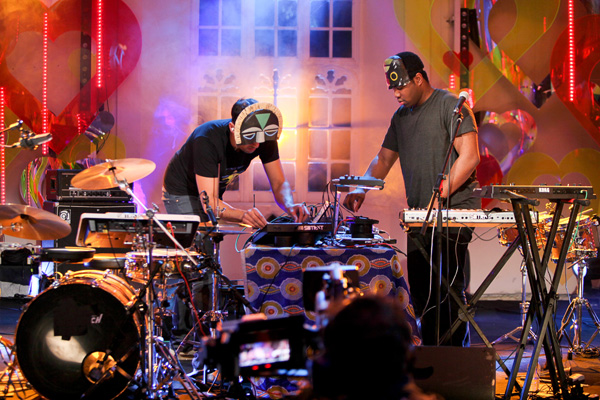 The final night of the St. James' Church recordings and it's possibly the best of the lot. We begin with an unknown which we quickly want to find out more about. Ben Howard is an English singer songwriter recently signed to Communion Records (and now Island Records). Home to a slew of interesting folk artists like Michael Kiwanuka, Daughter and Matthew & The Atlas, Communion has become a mark of quality of late. Howard is no different. The surfer acoustic singer songwriter carries with it negative connotations these days but Howard is a way more interesting proposition than many of that ilk. His woolen voice is set against a folk sound that has a dark edge to it as heard on set standout 'Black Flies'.


The second Dingle welcome of the night goes to a band that have already proved themselves as considerable talents over three albums. Wild Beasts' latest album Smother is their most masterful of the three to date and the entire set is drawn from it in St. James' Church. The setting being as intimate as it is, the lights being so much brighter than regular gigs due to the TV recordings, there is nowhere to hide. If a band aren't up for the challenge, they'll soon be found out. The Cumbrian band have no such worries. It's rare to see a band so locked in to their music, so comfortable and talented and knowing about their playing, that they instantly create a magical atmosphere, taking advantage of the reverence that the church affords. The set is taken from the first eight tracks on Smother performed in order (Watch the entire set at The Guardian) While the songs are great ( 'Lion's Share' , 'Bed Of Nails', 'Albatross' and 'Plaything' in particular if pushed) the performance is magnetising. There's a sprawling sound to Wild Beasts that they create with such control. Hayden Thorpe's voice is so much less dramatic and jerky than it used to be, his operatic tones smoothed out with texture. Watching him lunge around the stage as if waltzing with an invisible ghost is a highlight while the band's secret weapon, their drummer Chris Talbot makes excellent use of two bongos on his kit to produce unique rhythms. Wild Beasts are easily one of the most important AND interesting bands around if this set is anything to go by.
By contrast, Spiritualized's set consists almost entirely of songs from a forthcoming LP due in February that no one has yet heard. Project main man Jason Pierce has spoken of it as his attempt to make a pop album but there'll be no three minute ditties here. As is standard for most of the Spiritualized back catalogue the songs are sometimes elongated by guitar and psychedelic freak outs but at their core they are based on simple ideas. Bluesy guitar riffs, organ, gospel style backing singers, three guitarists, drummer and Pierce holding court on his stool facing the band is how it looks and sounds. The lyrics of the new songs are soul and gospel inspired as ever with songs about a girl called Mary, talk of souls bring saved and the connection to Pierce's old band Spacemen 3 is clear when the band finish with 'Take Me To The Other Side'. You can watch 'Hey Jane' and 'So Long Pretty Things' via The Guardian.
The penultimate set of Other Voices 10 is also the one that looks to be the most divisive on paper. SBTRKT's self-titled debut album this year confirmed a electronic subgenre-shifting talent in Aaron Jerome but would it really in a church?
The answer was very quickly established as yes. Easily. Running a trail between post-dubstep, soul, house and synth-based rhythms, the set was an upbeat danceable one. The collection of equipment on the table means there's plenty of knob twiddling but Jerome regularly jumps from the table to the drums beside it. The other truly live aspect is Sampha, the singer who has joined SBTKRT both live and on record. His soul-filled voice keeps to the spirit of the festival as well as twisting, turning and leading on songs like 'Right Thing To Do' and 'The Coldest Stare' both of which end in a tropical dub workout. Without Little Dragon singer Yukimi Nagano present to sing 'Wildfire', the pair use her voice as a workout point for big drum rhythms and synth additions. It may have been seating in the church but there was plenty of pew dancing and head nodding. For many people who were previously unaware, SBTRKT was the surprise set of the weekend.
We end with a promising new talent and one of the most visually interesting performers of the week. King Charles' bouffant hair, waxed moustache and white suit certainly gives him the look. His set of self-described "glam pop" is a nice breather of whimsical chamber simple pop songs. It would have been nice to see Charles put the guitar down and throw himself around a bit but in songs like 'Love Lust', 'Bam Bam' and 'Mississippi Isabel', he's got a trio of potential festival singalongs.
Photos: James Goulden.