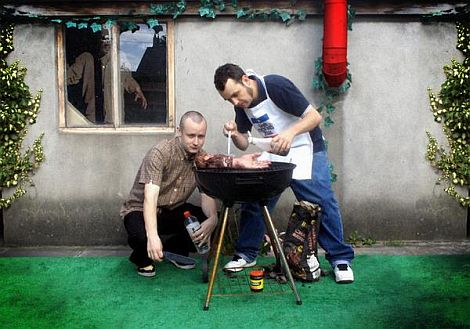 Black Music is an apt title for Dublin duo Deep Burial's latest release. It is 42 minutes of brooding, menacing and engaging Dublin instrumental hip hop. Not something you hear often around these parts.
The track titles only serve to reinforce the bleak outlook suggested in the album title with track titles like "Maggot Confetti", "Bloodgutter", "Snuff Rock" and "Glue Bag Lung". This would be perfect for a modern, horror movie soundtrack which should come as no surprise, as the duo have previously made an EP around zombie film samples. Luckily, the album doesn't wallow in it's own darkness – there's plenty of funky breaks and intriguing samples to keep your ear peeled for. There's also some top notch scratching to be heard reminiscent of Q-Bert.
Opener "Demon Intro" sets the tone and it's always refreshing to hear Dublin accents sampled for a tune. "Glue Bag Lung" is the closest Ireland has come to answering DJ Krush in terms of atmospheric hip hop. But where Krush employs Aesop Rock to dominate the atmosphere on "Kill Switch" (from Jaku), I can't escape the feeling the track could have really taken off with an MC being the primary focus. Deep Burial state on their site that they intended to have 4 Irish MC's on the album but that "that putting voices in between the instrumentals would pop the atmospheric bubble we wanted to create.". This may be true but I feel a competent enough MC could only add to some of these tracks. Case in point – One of the outtakes from the album, "The Theme" features an MC – Exile Eye and is a very strong track with a Def Jux feel to it.
Anyway, apart from my misgivings on the lack of vocals on the album, production is near faultless, the bass booming out the speakers on "Run with the Devil", the swishes and swashes of 80's theme tune influenced "Carpenter Youth" and the standout track – "Snuff Rock". Beginning with a distinctly Irish female voice instructing the listener on how to hook up a VCR, the track sounds like it wouldn't be out of place on a Cannibal Ox album. Full of those distinctly 80's stabs perfectly suited to inciting fear on a walk through an empty metropolis late at night with those sewers that smoke and cats scaring the shit out of you at every corner. Anybody who has seen hilariously bad horror film Maniac Cop starring Bruce Campbell will understand.
MP3s
Deep Burial – Maggot Confetti
[audio:https://nialler9.com/mp3/Deep_Burial_-_Maggot_Confetti.mp3]
[audio:https://nialler9.com/mp3/Deep_Burial_-_Snuff_Rock.mp3]
Deep Burial – The Theme with Exile Eye (album outtake)
[audio:https://nialler9.com/mp3/Deep_Burial_-_The Theme.mp3]

For contextual purposes:
DJ Krush – Kill Switch (with Aesop Rock)
[audio:https://nialler9.com/mp3/dj_krush-kill_switch_(feat._aesop_rock).mp3]
[Official Site | MySpace featuring Snuff Rock video ]