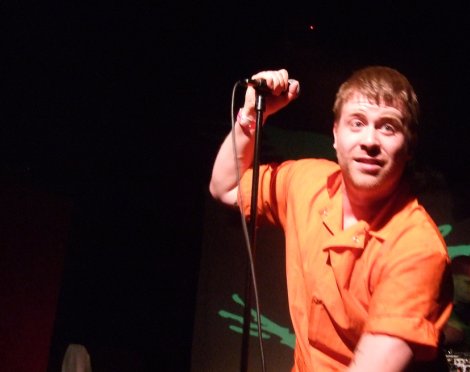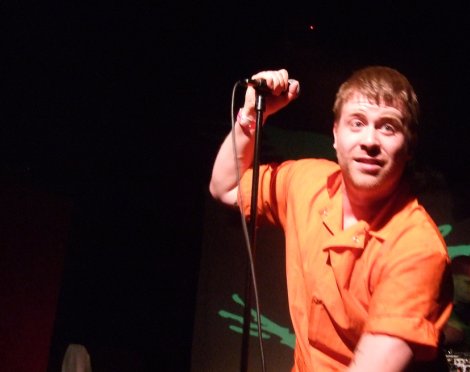 El-P rocked the house last night in Crawdaddy with a proper hip hop show. I always hesitate in buying tickets for hip hop gigs nowadays as so many are bereft of showmanship and entertainment, it's just depressing. Example – Talib Kweli in the Village a couple of years back – when he took a camera off someone in the front row and refused to give it back. He tried to make amends by freestyling about the incident thinking it made him some kind of cool fucker. The crowd booed, he eventually gave the camera back, but it was too late. He had already soured the atmosphere for most.
No such problem for El Producto. Stepping on stage in an orange jumpsuit to the sound of Donnie Darko's Mad World, backed by camouflaged DJ Mr Dibbs and The Mighty Quinn. No live band but none was required. His reasoning is that he spent two years making these beats so he doesn't want to replace them with some session musician conceived at Woodstock. Dibbs was suffering from a severe ear infection that meant he was passing out before the show but he soldiered on. The proceeding set was ripped through with an intensity refreshing to see for a hip hop show. But then, If there was anyone who wouldn't let me down, it would be El. He understands that the current ilk of dollar-grabbing rappers are the cancer of live hip hop. He talks about how rappers don't rehearse, citing his 8 hour a day rehearsal sessions prior to the tour.

Much of the set was taken from the brilliant dystopian new album I'll Sleep when you're Dead with a few older tunes that were extremely well received ("Stepfather Factory" , "Tuned Mass Damper", Company Flow's "Vital Nerve", "Deep Space 9mm"). He bantered with the crowd throughout about emoing out ("The Overly Dramatic Truth"), crying naked, cocaine users ("The League of Extraordinary Nobodies"), his fear of flying ("Flyentology") and the crowd bantered back – "Get off the stage ya Orange bastard" which was totally lost on him.
El told us afterwards that they needed a good show and the Irish crowd delivered the best one of the last two weeks, saying previous shows were analogous to "a monkey jerking off in a cage in front of little kids. There's only a release at the end." a reference to European audiences infected with Whelans disease, a dangerous virus the symptoms of which are: lack of engagement in a gig, hushing fellow audience members, frowning on those dancing not standing around as required, and ONLY clapping at the end of the song. EL-P was simply too good and upbeat for such a catastrophe to happen and to top it all off, he hung around outside for about an hour after the show chatting to everyone. Top bloke.
Videos:
El-P – Stepfather Factory
[youtube]MndcOPHjcfU[/youtube]
El-P – Drive
[youtube]TZq3G981Ddw[/youtube]
El-P – Vital Nerve
[youtube]byMKP6ph6-0[/youtube]
El-P – The Overly Dramatic Truth ("Emotastic!")
[youtube]bQw85LJPYPQ[/youtube]
MP3
EL-P – Flyentology (Cassettes Won't Listen Remix)
[audio:https://nialler9.com/mp3/EL-P_-_Flyentology_CWL_Remix.mp3]