Having never visited Eurosonic before, I assumed it was your usual music industry festival type-deal. Hundreds of bands and loads of industry looking for the next big thing. While the festival can fill that remit, the important part for me is the European focus. Over 250 bands from around Europe congregate in the city of Groningen, north of Amsterdam in the Netherlands, and live music is the main attraction. Festival bookers and promoters are here to book acts for their festivals and the EU offer subsidies to those who book Eurosonic-featured acts.
Add in the work of the European Talent Exchange Program (ETEP) which encourages festivals to make a commitment to book the same act across a number of festivals in Europe (1359 shows and counting since 2003), the presence of 30 radio stations from across the continent broadcasting live from Groningen (including RTE 2FM's Ian Wilson has been a long-serving member of the Eurosonic core group) and it makes the showcase event a must-do for bands, promoters and agents particularly.
This year, the spotlight country was Ireland and we were represented by 21 acts: Bitches with Wolves, Cashier no. 9, Emmet Tinley, Fionn Regan, Foy Vance, Funeral Suits, God Is an Astronaut, Hello Moon, James Vincent McMorrow, Jape, LaFaro, Lisa Hannigan, Mojo Fury, Rams Pocket Radio, Squarehead, The Cast of Cheers, The Minutes, Thread Pulls, Toby Karr, Wallis Bird and We Cut Corners. You can check out all the bands at Music From Ireland's site who help organise the contingency with help from Culture Ireland. For a full report on how they got on at the festival, read my feature in this Friday's Day and Night in the Irish Independent (/plug).
The Irish focus was the main reason I was there, as well as to participate in a media panel, but of course, I saw about 30 bands from Wednesday to Saturday, and here were my 10 favourite live shows of the week.


I knew very little about these Norwegian kids before I walked into Vera to catch them apart from three different people recommending them in a week. I was blown away. A bunch of brats playing political punk-rock in their native Norwegian language who all looked 16 yet played like they've been doing it since they were born. Their name translates as "Honey Children" and there is something sweet and endearing in their ferocious energy. Each member has a very distinct personality but it's singer Edvard Valberg who dominates the show. Dressed in a royal blue school blazer and tie, he is the spark which ignites them. He plays a cello for some songs, sitting down to strike but he's so too taken by the music that he heaves back and forth on the chair to the rhythm, shouting at lyrics at the floor while the rest of the band sing the chorus or respond to his lines. They excel live so you might have to to see them there to get the full experience. That said, I've been enjoying their most recent album La Alarmane Gå since I saw them on Friday.
Here's footage from the gig:
3Voor12
Live recording of the Vera Set
Eurosonic Session
---

While I've missed Clock Opera twice on home soil, I have now seen them twice at foreign festivals. The first time was at SXSW in March and the second time around in Simplon on Friday night. They were great last year but they were bloody fantastic on Friday night, showcasing their sky-reaching songs from their forthcoming debut album Ways To Forget. You can hear festival singalongs in the grand buildups of 'Belongings' and 'One And For All'. Watch out for Guy Connelly hitting those note crescendos.
---
Photo by Tom Spray
Another firm favourite around these parts, Eurosonic was my first time seeing these Swedes live. They didn't disappoint. Malin Dahlstrom's at the centre of their uncanny dance-pop and she reinforces the mood with rugged spot dancing and arms making spherical moves around her body. There's also a backing dancer as if that wasn't enough. Musically, they sacrificed momentum in favour of atmosphere when the song would have done a few times but the eerie noise coming from the speakers was always at least beautiful. 'Mother Protect' and 'The Drummer' were the standouts.
---

It wasn't going to take much for me to like this a lot. I'm a big fan of Elena Tonra's first two EPs already and putting her in a big Dutch cathedral to a large crowd was perfect for her show which burned with shimmering intense folk songs and lyrics. She plays Dublin in March with Ben Howard – go see.
---

Recently signed to Domino, Frànçois and the Atlas Mountains are not going to be everyone's favourite new band. At times during their Eurosonic set, they sounded like 1. The Beta Band. 2. Paul Simon (specifically Graceland), 3. Animal Collective and 4. like they were about to break into 'Wimoweh' aka 'The Lion Sleeps Tonight'.
It sounds awful but was rather charming. E Volo Love, their first Domino album is out in two weeks.

Lovely floaty electronic music on record, lovely floaty electronic music in a live setting too. There were four member on stage so Vondelpark's set was a considered live affair. They could be categorised as post-dubstep in the way that they use snatches of vocals in songs but voice, guitars and synths were played live to some pre-recorded beats and a smokey visuals backdrop which added something unique.
---

This Vienna trio that make sort-of traditional dance music with live instruments. They rely on the propulsive and hypnotic high-NRG end of dance, and make it happen with drums, bass and guitar. Groningen's Grand Theatre is turned into a Berlin rave for the duration of the show as they make their floor-filling music look intricate rather than faceless.
3Voor12
Eurosonic Session.
Live recording of the Grand Theatre show.
---

Photo: Tom Spray.
This Danish band generally avoid the obvious where possible but it also means that their brand of electronic pop songs are pretty obscure and ghostly. Singer Nikolaj Manuel Vonsild has a voice that scratches like Antony Hegarty with an almost classical vibrato. When it works really well as in 'Church & Law' and 'Parix', it's on a similar plane to Fever Ray's haunting but inviting sound. I kinda wish they had a few more songs like 'Kelly' rather than the more difficult ones though.
---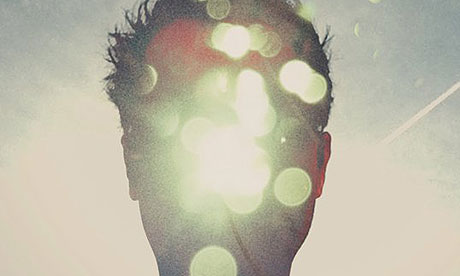 Hollowed out drums and spatial blown-out hazy arrangements were the main characteristics of Victor Ferreira's set in Subsonic. The Luxembourg man was sandwiched between Toby Kaar and Baconhead and impressed with his clipped beats and compressed synths. As it happens he has a new vinyl EP out called High on music/is/for/losers which also comes with a Mmoths remix.
---

I dropped in and out to as many of the 21 Irish shows as possible and all of them sets I saw were played to packed rooms. The only set I stayed until the end of was James McMorrow's (plus I had queued for 20 minutes to get in). His big show was on in the Stadsschouwburg, the city's opera theatre. In a wonderful use of the space, the audience actually stood on the large stage and the bands played inwards to a backdrop of red velvet covered box seats and an amazing roof painting. It was a pretty special venue.
James' set was a triumphant return to Eurosonic after it all kicked off for him last year there. There was pin-drop silence from the audience throughout, a very rare luxury for any performer and James and band made the best of it with the best set I've seen from them in over a year.
Elsewhere:
After two great songs of Talking Heads-esque tropical pop, Theme Park were let down by a lack of tunes and went a bit reggae. These lads just ain't ready for the big time. Take note, hype cyclists! Still, 'Milk' and 'A Mountain We Love' are great.
Was really disappointed to turn up to Jessie Ware's gig for her to be a) not very good really and b) playing her first ever live show. Who the fuck plays their first gig at an industry festival type thing where people are on the lookout for good festival shows??? Take your time and give yourself a chance maybe?
Loads of video, live sets, audio and sessions at 3Voor12.
2FM were there too. Check out their coverage.
Jim Carroll's coverage.
Check the Irish Independent on Friday for my report on Eurosonic.