Lovely floaty electronic music on record, lovely floaty electronic music in a live setting too. There were four member on stage so Vondelpark's set was a considered live affair. They could be categorised as post-dubstep in the way that they use snatches of vocals in songs but voice, guitars and synths were played live to some pre-recorded beats and a smokey visuals backdrop which added something unique.
---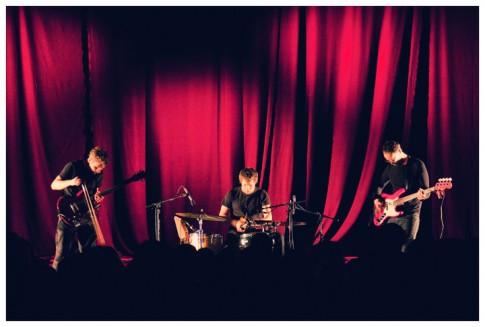 This Vienna trio that make sort-of traditional dance music with live instruments. They rely on the propulsive and hypnotic high-NRG end of dance, and make it happen with drums, bass and guitar. Groningen's Grand Theatre is turned into a Berlin rave for the duration of the show as they make their floor-filling music look intricate rather than faceless.
3Voor12
Eurosonic Session.
Live recording of the Grand Theatre show.
---

Photo: Tom Spray.
This Danish band generally avoid the obvious where possible but it also means that their brand of electronic pop songs are pretty obscure and ghostly. Singer Nikolaj Manuel Vonsild has a voice that scratches like Antony Hegarty with an almost classical vibrato. When it works really well as in 'Church & Law' and 'Parix', it's on a similar plane to Fever Ray's haunting but inviting sound. I kinda wish they had a few more songs like 'Kelly' rather than the more difficult ones though.
---

Hollowed out drums and spatial blown-out hazy arrangements were the main characteristics of Victor Ferreira's set in Subsonic. The Luxembourg man was sandwiched between Toby Kaar and Baconhead and impressed with his clipped beats and compressed synths. As it happens he has a new vinyl EP out called High on music/is/for/losers which also comes with a Mmoths remix.
---

I dropped in and out to as many of the 21 Irish shows as possible and all of them sets I saw were played to packed rooms. The only set I stayed until the end of was James McMorrow's (plus I had queued for 20 minutes to get in). His big show was on in the Stadsschouwburg, the city's opera theatre. In a wonderful use of the space, the audience actually stood on the large stage and the bands played inwards to a backdrop of red velvet covered box seats and an amazing roof painting. It was a pretty special venue.
James' set was a triumphant return to Eurosonic after it all kicked off for him last year there. There was pin-drop silence from the audience throughout, a very rare luxury for any performer and James and band made the best of it with the best set I've seen from them in over a year.
Elsewhere:
After two great songs of Talking Heads-esque tropical pop, Theme Park were let down by a lack of tunes and went a bit reggae. These lads just ain't ready for the big time. Take note, hype cyclists! Still, 'Milk' and 'A Mountain We Love' are great.
Was really disappointed to turn up to Jessie Ware's gig for her to be a) not very good really and b) playing her first ever live show. Who the fuck plays their first gig at an industry festival type thing where people are on the lookout for good festival shows??? Take your time and give yourself a chance maybe?
Loads of video, live sets, audio and sessions at 3Voor12.
2FM were there too. Check out their coverage.
Jim Carroll's coverage.
Check the Irish Independent on Friday for my report on Eurosonic.
Related