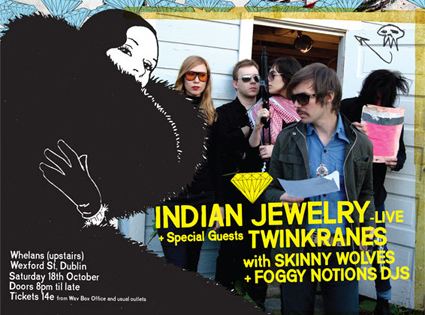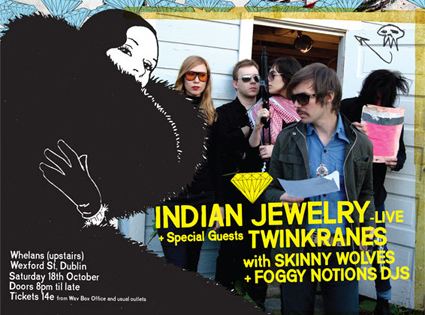 Tomorrow night sees Skinny Wolves launch a vinyl-only pressing of Indian Jewelry's Sangles Redux with a live show upstairs in Whelans from the band alongside TwinKranes and Skinny Wolves / Foggy Notions DJs. I'm going to miss the gig myself unfortunately but at least, the LP fulfills all my needs for punky, art-rocking, scuzzy, Suicide and Velvet Underground-esque rock 'n' roll jams so I recommend you go and see the band live as they have a stellar live reputation or as Skinny Wolves called it "full intoxication". Doors 8pm / Admission: €14.
Sangles Reduxis a collection of some of the best earlier Indian Jewelry recordings, some released on now out of press vinyl, some never released before so its well worth getting your mitts on it. And if you like that, also check out the FREE GOLD! album on We Are Free. Sinead Gleeson also has a Musical Rooms post with the band.
Indian Jewelry – Bombing Nightclubs
The Skinny Wolves guys are busy with another gig tonight along with Maximum Joy – Mahjongg, Not Squares, Cochon and On with Skinny Wolves & Maximum Joy DJs. More info here.
http://www.myspace.com/indianjewelry
Order the 12″ from http://www.skinnywolves.com/