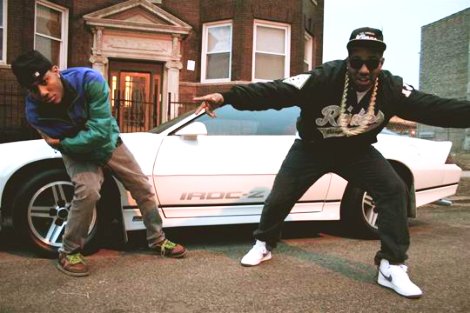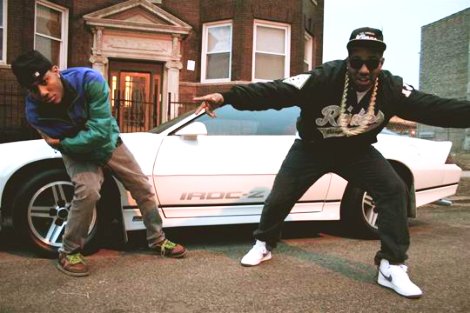 Rockin' a line of hip hop harking back to the days of EPMD and Eric B and all the more refreshing because of it , The Cool Kids are a duo from Illinois who excel at sparsely arranged hip hop and clever rhymes. In the same vein as Spank Rock, this is hip hop with a twist.
"88" sounds like LL Cool J's early rock guitar fuelled work updated with 21st century synths. The chorus hook even takes from Nas' "Made you Look" – "Do the Smurf, do the Wop, Baseball Bat Rooftop like we bringing '88 back" though I'm sure Nas got that from somewhere sufficiently old school.
"Mikey Rocks" is 80's hip hop braggadocia at it's best while "One Two" uses the same production techniques that can be heard on the Neptunes-produced Clipse album Hell Hath No Fury.
Their manifesto is clear on their myspace page –
CREATING ART for KIDZ EVERYWHERE.. (C.A.K.E)

This is a Lifestyle.. Dope Beats, Dope Rhymes… A Creative Pallete of Music, Personality, and Neverending Dreams to obtain and be whatever whenever. Were out to bring a feeling back, We make it cool to be a Fan again, Because were Fans first, Artists second. So with that said. Were out to make Dope shit
Hear Hear. More of this dope shit please.
MP3s
[audio:https://nialler9.com/mp3/Cool_Kids_-_88.mp3]
[audio:https://nialler9.com/mp3/Cool_Kids_-_Mikey_Rocks.mp3]
[audio:https://nialler9.com/mp3/Cool_Kids_-_One_Two.mp3]

You can also download another track "Gold and a Pager" from their Myspace.
Some videos on iMeem