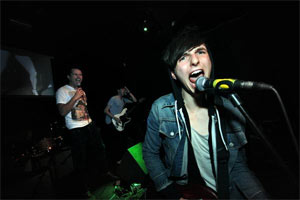 All this week, we're having guest posts from various people involved in different strands of Irish music – record shop owners, writers, bloggers, promoters, radio presenters, bands and more, telling us what Irish bands or artists they are really into right now.
Karl McDonald is the author of the excellent Those Geese Were Stupified music blog as well a writer for Totally Dublin and a sporadical presenter of The Analogue Hour on 2XM.
Grand Pocket Orchestra's two EPs so far have yielded indie pop songs that sound on the surface like the world's most naively happy things, but there's an emotional depth to the music that makes it stick hard in your mind even after the sun's gone in. If their album takes much longer to come out, some people might die of anticipation, judging from the frankly Cirque du Soleil-esque atmosphere the last time I saw them upstairs in Whelans. But with a new drummer and a No Monster Club joining in a libero role, GPO's future's not just brightly coloured, but bright.
Wounds, like house, are more a feeling than anything else. They play ridiculously hard, regardless of surroundings. In the Odessa Club (which is more a fancy sitting room with a bar than a venue, really), both Coogan brothers managed to crowd surf. With all of Crawdaddy to work with, they were trading stage, floor, crowd-top and balcony without much ado. Drive Like Jehu's Rick Froberg once said his band's music was designed for "maximum physical gratification"; that's Wounds too. Their math-free post-hardcore hits in the head, the stomach, the balls and then the head again.
Wounds – Choke
Now spending most of his life on the floors of enthusiastic American guitar pop fans, Brian Kelly returns from his latest tour with a new album, Meaningless Friendly, more ambitious and better than anything he's done before, including last year's US only greatest-hits-so-far compilation. On his way from coast to coast and back (via SXSW, where he played 10 times), he crossed paths with Lovvers, Ted Leo and Abe Vigoda among others, but in truth, Kelly is a level above. As much observational humourist as pop lyricist, and equally taken with spazz-outs and pop hooks, So Cow is the world leader in straight up, plug-and-play guitar music right now.
There's something almost alchemical about Nouveaunoise's ability to meticulously tier different sounds, synthesised, sampled or recorded, and still have "organic" be the first word that jumps to mind. The extent to which they've been on the radar over the past few years has varied a lot, but if the tracks on their double A-side single are anything to go by, their album is going to be the new standard in what is already a confusingly fertile experimental music scene.
When Aidan Wall first appeared, it was impossible to figure out what to do with him, mentally. He was a teenager whose home recordings made the Microphones look lush, with tape hiss as prominent as melody. Then he started doing electronic music as Hipster Youth, and turned chiptunes inside out for fun. He's still doing that, but it's the next Porn On Vinyl release I'm most looking forward to – the songs that've surfaced live are much more developed than the earlier stuff, consisting of stories and snatches of character studies, infected with melodies that sound ever so slightly wrong.
Free album download: "I spent the night thinking with short periods of sleep interrupted by visions"