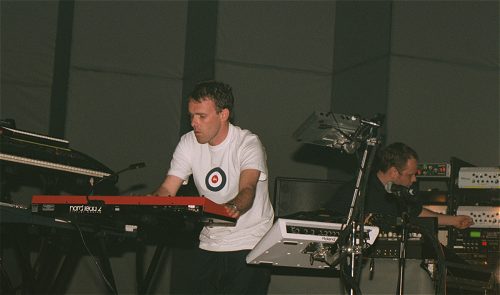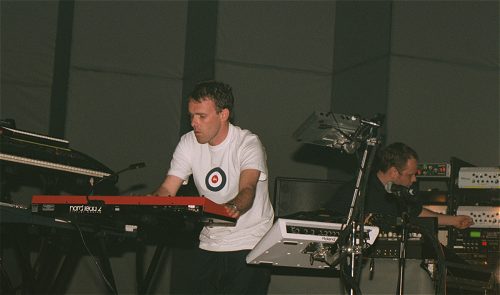 Oh yes. This is a big one for me because it was one of the first live sets I got off the net way back when and it blew my mind. In fact I still listen to it regularly and I've always wanted to share it. It's from the Homelands England show in 2000, a few weeks before their big Glastonbury set and If I remember correctly, I got to experience this live set at Witnness that year. The sound quality is great. The crowd can be heard throughout and they are vital to the recording. You can hear the space between the audience and the stage and almost smell the night air.
It starts with a brooding dub groove egged on by a crowd armed with klaxons, whistles, sore lungs and no doubt, glowsticks. This groove last for 2 minutes 42 seconds until a humongous drum beat takes over sending the crowd into a frenzy. For 8 minutes it builds and builds with massive bass which Leftfield were of course renowned for (Ultra high volumes, plaster falling from roofs in Brixton). When "El Cid" kicks you notice that this is no two-guys-behind-a-laptop gig. Daley makes his electronic drums sound spectacular over the dubby rhythms and it leads to the first introduction of resident MC Chesire Cat who instructs the crowd with "Tonight we're going to take you higher, but first lower".
The crowd go mental for a high octane version of "Black Flute", "Inspection (Check One)" sounds like some of that ker-azzy dubstep going around these days :), "Afrika Shox" replaces Afrika Bambaata's rather silly vocal with an atmospheric vocodered gibberish and is all the better for it. All these songs sound markedly different from their recorded output and in my opinion better. So much so that where Leftism has failed to stand the test of time, this live set will be a better testament to a time when 90's electronic music was at its apex.
Leftfield keep the best for last though with a rousing rendition of "Phat Planet" and the unrelenting thump builds slowly for nearly 5 whole minutes until the beat drops and the crowd is decimated. One of the best live electronic sets ever. Enjoy.
Download individually or as a zip.

Tracklisting
1. Dub Gussett (8:06)
2. El Cid (5:14)
3. Chant of a Poor Man (11:34)
4. Black Flute (9:46)
5. Storm 3000 (7:21)
6. Inspection (Check One) (11:25)
7. Afrika Shox (9:13)
8. Double Flash (6:22)
9. Song of Life (3:25)
10. Phat Planet (11:47)
DivShare File – Leftfield_Live_at_Homelands_2000.zip (76MB)