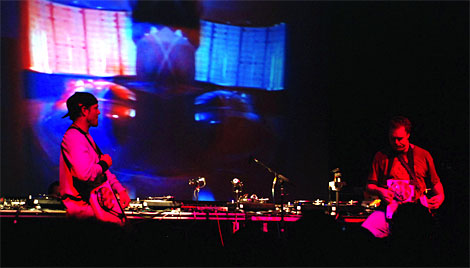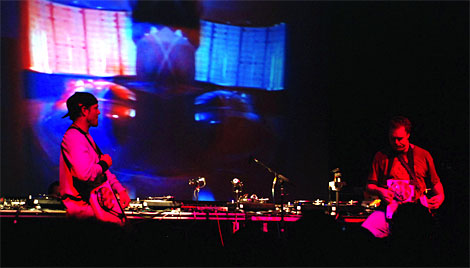 Since I've been listening to Steinski's What Does It All Mean retrospective in the last few weeks, it occurred to me that a number of artists had followed the lead of Steinski and Double Dee in creating short hip-hop mixes based on instructional lesson records, the most notable being Cut Chemist and DJ Shadow. I hadn't heard of Steinski's Lessons 1-3 when I heard these mixes (Listen to The Payoff Mix on MP3) but I knew the recent ones were inspired by something. Here they are:
DJ Shadow – Lesson 4
Apparently, this is Shadow's first record from 1991. Taking Steinski and Double Dee's mixes as direct inspiration it's mostly a breakbeat mix from old funk records with some famous samples thrown in. The real Shadow deal was to come later but not under the "Lesson" name.
DJ Shadow – The Third Decade, Our Move
Five years later, Shadow had obviously improved his skills beyond the original 'Lesson 4' mix to the point where he was establishing his own unique sound. I picked up this tune on a compilation given away free with Select Magazine from 1997 and I loved it so much. Still do. The song is essentially a four and a half minute collage about hip-hop using spoken word snippets about samples and rap. What pleases me the most about the song is that it's still undeniably lo-fi in construction. The beats are so wonky and straight up, you can almost see the turntable they were looped from.
Cut Chemist – Lesson 6 – The Lecture
Taken from Jurassic 5's debut LP, Cut Chemists Lesson contribution adheres closely to the original modus operandi of instructional samples. It's also the most playful as it's filled with references to DJing and record-playing. On the following J5 album Quality Control, the "Lesson" idea was used as a blueprint for a track called 'Swing Set'.
Cut Chemist also has a 'Lesson 4', made in 1993. It was so-called because he was unaware of Shadow's earlier mix at the time.
Coming full circle, Double Dee and Steinski opened for DJ Shadow and Cut Chemist on their New York tour dates at Irving Plaz in January 2008.
Incidentally in 1999, DJ Format had a track called 'The English Lesson' using English-accent samples while DJ Bombjack made 'Lesson 7' in the same year. I want to know where did Lesson 5 go to?
It's worth noting that Steinski and Double Dee were not DJs so they created their mixes splicing and editing tapes in a studio.
Related