Live Venue Collective shows government support for the arts can get people back to work during the pandemic
Alex Gough, Kino, Cork by Shane J Horan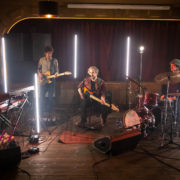 View Gallery
The Live Venue Collective, a group of live music venues and producers have shared the facts and figures about the shows their members recently put on that were made possible by financial supported by the the Department of Tourism, Culture, Arts, Gaeltacht, Sport, and Media as part of the recent funding available to the live music sector.
These events directly supported not just musicians, but also technicians and crews across the country.
The collective report that in their shows over 2000 people were hired, 405 live shows hosted, with 416,000 audience members tuning in or attending socially-distanced shows in limited numbers.
These shows wouldn't have been possible without financial assistance.
As part of the above Live Performance Fund, 23 of the 28 members of Live Venue Collective applied as a group to the live performance support pilot scheme. The application was successful, and the 23 Live Venue Collective members received €1.1 million in total. Overall, 59 organisations benefitted from the scheme.
The 23 venues, each committing to 16 performances, there was a huge variety in shows from outdoor shows for 15 people, to streamed events with no live audience. Each show was lovingly created in collaboration and conjunction with each venue's regular music and production community. The collective of 23 venues curated, produced and presented a total of 405 shows involving 2110 employees, 655 artists, 965 live audience members, and resulting in 24,000 minutes of digital content.
You can read the report in full here and watch the accompanying video.
Live Venue Collective Report Video:
Thanks to the support from Minister Catherine Martin and her department, each of the successful applicants were able to once again, for the moment at least, promote and produce shows hiring artists, performers, technicians and other support staff in their respective communities and present a series of unique and culturally significant performances, preserving our vital collective experiences of culture, learning and expertise. It is crucial these supports continue for as long as restrictions on these businesses remain.
Comprising of small to medium-sized independent live music venues, the Live Venue Collective was established in the summer of 2020, in the wake of the devastation caused by Covid-19 to music venues all over the world.